Destress at the end of this week
26 April 2018
So its the end of another working week and we are all stressed, we all need some time to unwind and get rid of what work has thrown us and get us ready to start the chores of the weekend, I can understand that destressing weekly is better than get pent up and exploding. It's a common known fact that our lives are getting more busier and the hecticness of life is taking over.
So what I thought I would do with this article is point out to you some of the most friendly and fun escorts in London who will do this for you.
All the girls that are mentioned cover both incalls and outcalls and I've given you a choice selection of brunettes and blondes.
The girls to check out are ;
Chloe - a tiny, lovely blonde lady who is based just 3 minutes - if you walk as slow as me, from Baker Street tube station. One of the reasons that I would push you toward this lovely lady is that fact that her apartment is so nice, in fact, I would say that its the cleanest place that I have ever been in - it shines! Chloe is very friendly, she's got a great smile. If you like small blondes then Chloe is going to be a great bet for you and what's nice is the fact that so close to her are some really good places to grab a bite to eat and perhaps a beer. Chloe has a long list of likes - always a great stress buster and also some pretty sexy outfits, in calls with Chloe start from £150 and that's nothing compared to a psychiatrist or marriage counselling. 
Marlene - Lives just off of Gloucester Road in Kensington, her apartment is in the basement of a very nice block, she has a lovely lounge area which is a really good place to start a long booking - I say long booking because when you see Marlene you are not going to want to leave! On her profile is her selfie which shows just how pretty she is and also highlights just what a great body she has. Marlene has really nice boobs - not too small and not too big! Another great £150 girl so she should always be at the top of your list.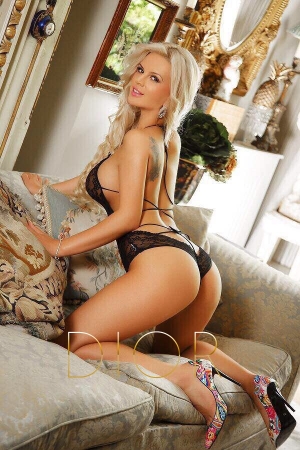 Kim - one of my favourite London escorts. Where to start with Kim? Let's look at her apartment! It is out of this world! In a really nice area, a great place to chill out and Kim has everything that you could ever want right to hand. Kim has a great body, she is quite small but has really big boobs and they are really great boobs, so nice they are going to make your mouth water! From her selfies on the site, you will site just how great looking she is and that also she really does have some style about her. Book an incall with Kim for £200 for the hour and the week will seem a million miles behind you.
Poppy - I love this girl! Brunette with a really toned body, she lives in South Kensington and is very open-minded, Poppy is fully bisexual and can be booked with a number of the other ladies in the area for a great time. Poppy has a great choice of underwear and outfits but the one for me is her leather trousers, she wears these with a very strappy high heel and painted toes! Your mind will be blown I promise! Poppy speaks perfect English and is very well educated meaning that not only will her looks get you but her personality as well!
If none of the above appeals to you then call up and speak with Rachael, she knows the girls as well as I do and will happily point you in the correct direction but one last thing - don't forget to leave a review and let the world know about the great time you and your date have had!