The blog for this week
16 November 2017
I sat down to write a blog at 11am this morning, its now 3pm. How on earth has that happened? All the time I start something, get distracted and then start something else so I usually have about 15 things going on and then I rarely finish anything! My NY Resolution really has to do something with my procrastination issues! So here I am, back where I started my day and now I cannot even remember what I was going to write about today....I'm sure it was going to be something pervy and titilating. Oh well, that ship has sailed. Maybe next time plus I've still got to man the escort agency phones.
I met a friend this weekend, with her new chap and you know what the main topic of conversation was? New underwear, sexual positions and discussing if hold ups are better than suspenders.....? Afraid not....the girls at Dior Escorts would not be impressed (and everyone knows suspenders will always remain superior) we chatted non stop about TV. Anyone else a box set addict? Oh my, since the end of August I have binged. And I mean really binged. Got back up to date with The Walking Dead and Peaky Blinders whilst squeezing in Ozark, Power, Tin Star (Tim Roth....something about him that makes me look at older gentlemen in a slightly different light. The accent helps immensely!) and the odd one in the mix, the comedian who goes travelling with his Father in Thailand. Only short but loved, really did make me chuckle and after all those box sets I urgently needed something light hearted.
This weeks binge is Designated Survivor with Kiefer Sutherland - the trouble with this series is that Tom Kirkham really needs Jack Bauer. Jack would sort that shit out in 24 hours. However, I do realise I shouldn't get so caught up in two fictional characters however whilst I'm wrestling how that could get Bauer to The White House 2017 I'm also crushing on Maggie Q. Fuck me. I LOVE her character, she is totally bad ass. I want to actually be her, not only nailing the pencil trouser suit and FBI jacket combo but the whole persona. Well done Ms Q, you've made this series for me. Unsurprisingly James has got the total horn for her now I have him also addicted to Netflix, and so I'm now getting James-spam emails of MQ in various states of undress. I'm sure that man can't go 30 minutes without a filthy thought! Can't blame him though, she is something else not compared to our stunning London escorts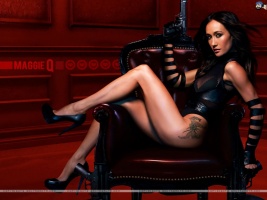 I do know that I need to get out of my TV cocoon and I have loads on over the next few weeks so am ramping up to start socialising again.....and will need to work on any conversation that doesn't revolve around "what are you watching...?!'
Effort required. Wish me luck!