The girls are returning from their holidays
23 April 2018
The Easter period is over! Thank God for that, why do I not like Easter I hear you all ask? Well so many of our lovely escorts go on holiday, it's that simple! Our escort gallery is completely bear – I think at one point this Easter we had over 50 of the girls away! Rachael was pulling her hair out, this is a time when so many of you get to slip away ( perhaps the wife and kids are on holiday) and want to spend some time with you favourite ladies only for them not to be here!
Never fear the girls are back and here's a very quick insight into whose around this week;
Delia – I love this girl, she oozes sex appeal, as soon as you see her you'll know why! Now located in Marble Arch, she has moved from South Kensington, she has some good reviews on our site but one Natural review on Punternet, which I am a little surprised by. The review didn't criticise what she goes but was a little harsh about her looks. I would have to disagree with this one, check out her selfie on the site if you have never seen her and let us know what you think or you could book her and give us your first hand knowledge.
Ginger – oh my I do love an ebony lady and Ginger is the best! One of the sexiest babes you will met Ginger had 3 weeks off over Easter and is well rested. She has returned looking as fit as ever and couldn't wait to get back into things. Still located in South Kensington and still available to book for duos with Almi Ginger should be right up on the top of your list!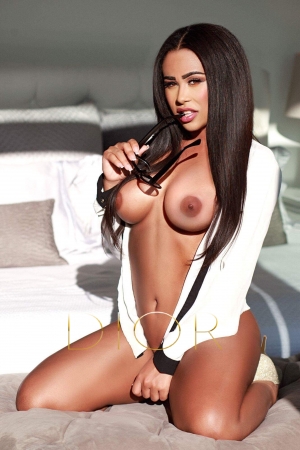 Kate – such a winner, I was broken hearted when Kate went away, Rachael cried! But now the lovely brunette is back! Still in Marble Arch, in her beautiful apartment, I would have to say its one of the best of any of the London escorts you will find on the site! If you have never seen Kate then you are missing out and I would strongly advise you to call up now and make that booking!
Kiki – So popular and such a nice girl, located in Warren Street – she duos with Megan if you fancy treating yourself! Kiki has been with us some time hence the number of reviews, you will also find a few reviews from people who have seen her on Punternet – I think there may even be some on some forum somewhere – one of those ones where people never believe the reviews and think the agency have written them themselves!
Casa – she was only away for a week or so but boy was this sexy escort missed! Casa has come back and now lives with Madeline – another great blonde, they are located over in Baker Street, I love the flat they are it is unreal.
Remember that to book these ladies or any of the other London escorts you see at our agency all that you need to do is pick up the phone, within minutes Rachaels will have your date booked and all the details sent over to you