A little more about Marlene
02 November 2020
Today I thought that I would write a little blog telling you more about Marlene, this is a great way for you to learn a little more about the girls – even though their profiles are very in depth these contain little things that we have found out by working with the girls for so long.
One lady who has been here the whole time and who I have enjoyed many a "lockdown lunch" with, after all it was Eat Out to Help Out, was Marlene. I've always had a soft spot for Marlene and she's always proved to be the very best company. I have known Marlene for years, since she arrived here unable to speak English and living in that rather large, famous block of apartments in South Kensington – you would not believe the problems it causes if we mention the name!
She was a delight and caught my eye the very first time I had meet her, she had never escorted before and was just going to try her hand at it, now she is one of the most sought after escorts in London and people return to her time and time again, I can see why! I'm drawn to her. Aside from her looks she has a lovely personality and pulls you into her world and you just don't want to let go.
We both like good food and love a glass of wine, a rose for her and a red for me, we have lost so many evenings this summer, sorry if you have tried to make a booking and she has been unavailable chances are she has been sitting opposite me in some restaurant or other pretending that I am as funny as I look!
As you know here at Dior Escorts we meet each and everyone of the ladies and we have such great relationships with them, our agency is like one big family, always has been and always will be
Just the facts
Marlene is 28 years old blonde, she is 170cms tall has a stunning 34C/26/34 figure and is a European lady.
Her incall rate is £150 for 1 hour, £200 for a 1-hour outcall. She has a long list of likes, which include owo, fk, massage and ws. She is based in Knightsbridge and she is available to book 7 days a week.
Her apartment
Marlene lives in Knightsbridge since moving from her flat near Glocester Road tube station. Her apartment is amazing, it's a very large basement apartment just off the main road in a beautiful square, her bedroom has a lovely en-suite, the kitchen diner is really large, and she has a lovely lounge area with a very large TV. Her lounge is so relaxing, its one of those that you just fall into her settee and could stay there for hours, I love her massive TV and don't mind just sitting there with her watching a film – a very relaxing end to the day for me. I can promise you this is a great apartment to chill out in, a drink and a smoke go down well here and before you know it hours have passed. 
Her look
Well, this is the one if you love blondes with big boobs. Marlene has added a selfie to her profile to show you just what a great looking lady she is – more and more of the girls are adding selfies just to show you what they are really like.
Marlene is quite tall, she is perfectly packed and by that, I mean that this stunning escort has the most amazing boobs you are ever going to see or feel! She always wears really sexy clothes and by this I mean even her gym wear is great, we have been known to spend quite some time together in and out of the gum and I can whole hearted say she is the best looking lady where ever you go!
Marlene has some really great dresses also, I love the red one that you catch a glimpse of in her selfie, although you she more boob than anything else!
Her Amazing Personality
You're going to find that Marlene is very frisky and open minded, sure all of her likes are listed on her profile but just wait until you really get to known her, she is the personification of desire. I mean it, Marlene is the type of woman, escort, that makes you go weak at the knees, this is not some young 21 year old playing at the game, Marlene is a skilled professional who knows how to get you coming back, she has leant what men and women want and boy does she do a good job giving it to them! She is fun, friendly, very charming and very sociable.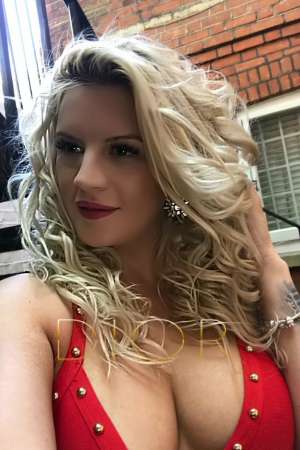 Marlene is looking stunning in red!
On Marlene's profile you will find selfies, videos and professional photos, you will find her likes and her dislikes, her stats and a little bit about her.
Would I recommend Marlene to you? Yes, I would! Would I say that she is one, yes one of, my favourite escorts? Yes, I would. Would I strongly recommend you take an afternoon out of your dairy and enjoy it in the company of this elegant and resourceful woman? Without a shadow.