Haifas turn for a showcase
18 August 2021
Haifa is one of our longest standing escorts and I thought it right that she should be showcased this week.
There is so much to write and tell you about this very sexy brunette escort, we have known her for years and have done so much work for her.
Currently Haifa is located in Lancaster Gate, but she started life here in London located in that famous apartment block in South Kensington – I won't write its name!! She then moved to a very beautiful apartment in Marylebone which was in a lovely old building just around the corner from Edgware Road tube station.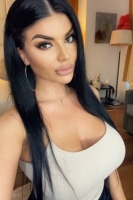 Haifas selfie is beyond unreal
Haifa then moved!
She decided that it was time to have a change of scenery and departed Marylebone for the bright lights of Chelsea, located just off Kings Road, Haifa blended into this area. You see Haifa has got the most amazing, tanned skin and thick lovely dark hair, she looks almost Middle Eastern in appearance, she dressed a million dollars all day every day.
During her time in Chelsea Haifa could be booked with Rowan for a duo – now that's a sexy sight
Even in a track suit Haifa looks unreal, I have never seen anyone pull one off so well!!!
Just a side note……..
But smells turn me on, I am not sure about you guys but I love thick Arabic scents, OUD is my favourite, have been known to spray a bit of Creed everywhere and have. A newfound obsession for Penhaligon's Haifeti Leather but Haifa does me in the most amazing smell department.
I do not know how she does it, but she smells go great all the time with scents that I have never heard of!
A great smelling girl to me is one of the biggest turn ons, so gents get on over there!
Haifa left Chelsea
There was a huge sigh when she did as the area just wasn't the same!
Now this very fantastic brunette escort in based over in Lancaster Gate, again in a beautiful apartment – just you wait until you see the huge mirror!!!
The escort herself
Haifa is 24 years old; she is a brunette with lovely brown eyes and amazing black hair that flows down her back. She has incredible 34DD boobs, match with her tiny waist and "popping" arse and you have a woman with a 1950s Hollywood icon figure – if you prefer women with less shape then our petite gallery is where you want to be.
Haifa is one of our Eastern European escorts but speaks perfect English – her accent like the rest of her is very sexy and will make you go week at the knees!!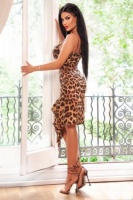 Haifa looks even better in real life
To spend time with Haifa you will need to spend
                                                                        Incall                           Outcall
1 hour                                                             £200                            £250
90 mins                                                           £350                            £400
2 hours                                                            £400                            £450
Overnights                                                      £1500                          £1500
Add hours                                                       £200                            £200
Rates are correct at the time of writing        
Haifa can wear a tracksuit well but she's dressed up even better.
I was once lucky enough to have Haifa accompany me to dinner. If you are looking for an escort to do this then Haifa is a different class!
I wish that I had the words to describe how amazing this sexy babe looked in her white dress and black Louboutins but the words escape me.
Fancy Haifa in these and nothing else?
Her finger nails, toe nails, her make up, her hair – all perfect.
This makes me ask the question?
If you haven't ever booked time with Haifa, then why not? You are the lucky ones amongst so many escorts in London we here at our escort agency give you the best choice. You have choices like Haifa and these girls are there just a phone call away.