James' Date with Medeea and Sia
04 November 2021
As the proud owner of Dior Escorts, I am fortunate enough to be surrounded by beautiful women day after day. I know that not many people can say that, and I certainly don't take it for granted. Believe me, I really do know how lucky I am to have this job. However, that doesn't mean that I'm used to spending time with gorgeous women or that I have got used to them. I still appreciate just how stunning, sexy and sultry the girls are, that is why I recently decided to book a date with two of our hottest ladies.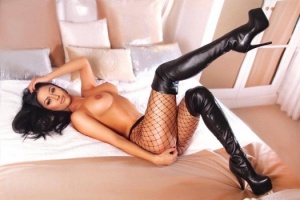 Medeea is hot enough to be anyones fantasy girl
Organizing My Incredible Date
Though there are a tonne of beautiful women to choose from, Medeea and Sia have always had my attention. Medeea has brown eyes, brown hair and an impressive 34D chest. She is completely my type and I was excited to have my way with her. I can see why she's considered to have the perfect body. Sia is equally gorgeous, with similar brown hair and brown eyes, but that is where the similarities stop. Combining everyone Medeea has to offer with Sia's petite figure and glamorous look, I knew I would get everything I wanted from this date. You can see why it was so easy to select these two escorts as the ones for me.
Organising my date couldn't have been easier and both girls were very accommodating. They were more than happy to visit me at a London hotel, making things as easy as possible for me. I booked in for a two-hour session - I knew one hour wouldn't have been enough with two women on my hands - and I waited for them to arrive. Medeea and Sia were on time, friendly and dressed to impress.
My Sexy Threesome
It's a pick me up I was looking for and it's a pick me up I got, my threesome with Medeea and Sia was as sexy and erotic as you can imagine. We started off chatting and getting to know each other. I quickly saw that these girls had more to offer than sex appeal and looks, they were both interesting and intelligent. We could have spoken for much longer but, of course, we had other things to be doing. This is where the fun really started.
We started off standing up, touching each other and everyone was obviously having an enjoyable time. Before long, the girls took it in turns to remove their clothes and I couldn't believe what I was seeing. I've not seen bodies as perfect as theirs in a long time, I was desperate to get my hands on them and I started to feel aroused. The more Medeea and Sia rubbed their bodies against mine, the harder I felt myself getting. Next, Medeea led me to the bed and started to kiss me. In the background, I could see Sia running her hands over her body, and I beckoned her over.
Medeea and Sia started to kiss each other. I know some escorts claim to be into women when they're not, but these women are definitely bisexual. They were enjoying kissing each other just as much as they were enjoying kissing me. Sia pushed me back onto the bed and both of these stunning women began massaging me, and it wasn't long before I felt a hand cup my balls and the pleasure really kicked off.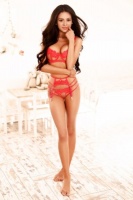 Would you like to see that very naughty escort?
Sia stroked my hardness up and down, up and down, whilst Medeea lowered herself onto my face. As I licked and sucked at Medeea's pussy, Sia wrapped her mouth around my cock and took my entire length in what I can only describe as the best blowjob I have ever received. I couldn't get enough but I didn't want the fun to finish too soon, so I instructed Sia and Medeea to focus on each other for a while. I got exactly what I was looking for and the two girls quickly began licking, caressing and fingering each other. They were loving it. I didn't think I could be any more turned on, until I witnessed them both cumming simultaneously. That is an image I won't be forgetting any time soon. Sia then went back to stroking my cock - she was enjoying it just as much as I was - whilst Medeea worked on my body. The three of us were changing positions, kissing and fondling.
Next, it was time for the main event. Medeea lowered herself onto my cock and began to ride up and down - she took me deeper than most women can manage, something I am a huge fan of - and then turned around, getting into the reverse cowgirl position and showcased her arse for me as she bounced up and down. What a sexy sight. To make this incredibly sexy vision even better, Sia began to suck on Medeea's nipples and took it in turns looking between the two of us. No one was being left out of this threesome, that's for sure.
Sia was obviously feeling a little jealous and she wanted some pleasure for herself. She encouraged Medeea to lean forward and lick her pussy, bringing her to climax in no time at all. Watching Sia cum while Medeea was riding me was one of the hottest things I have ever seen. It wasn't long before Medeea orgasmed, kissed Sia and licked her juices off of me. By this point, I knew it wasn't' going to take much to make me cum. I'd been holding it back for most of the session and I couldn't do so for much longer.
Medeea and Sia asked me how I wanted to finish, and I requested a double blowjob. They quickly got to work and before long I could feel myself ready for release. I moved myself away from their tongues, directed myself towards Sia's breasts and came all over them. I can't think of a time when I have cum so much, I was truly exhausted and completely satisfied. I would not hesitate to recommend Medeea, Sia and an escort threesome to anyone.
"I really hope that you enjoyed this complete work of fiction and that it was a good read, you can of course read lots more infomative articles in our blog or news sections - bye for now - J"