Live out your mature duo escorts fantasy
08 March 2013
A lot of London Escort Agencies have beautiful women that are available to be booked but the majority of them only offer women between certain age groups. Here at Dior Escorts, we are pleased to say that we have available a selection of women who are listed as 'mature escorts'. Fear not, these women are not old and wrinkly – they are in fact, the complete opposite.
These women are all boasting fine figures, beautiful faces and a wealth of life experiences, including in the bedroom. As they do not come around often I have chosen to highlight two of our mature ladies below. Both can be booked for incalls and outcalls so there is no reason as to why you should not live out one of your fantasies.
By looking through their photos below you probably wouldn't believe that they are classed as mature escorts, they would give any of the younger working girls a run for their money! This is part of the misconception surrounding mature escorts - they are not old, they are experienced. Online reviews rate them both highly and we recommend them as excellent examples of the quality services you will receive from mature London escorts here at Dior.
We don't believe that fantasies are fictional at Dior, we believe that fantasies should become reality and that is what we are in the business of doing, we can arrange what you want, whether it be two sexy young blondes in their early twenties to two mature ladies to worship you, if you would like a sexy brunette to dominate you dressed in PVC or a lovely lady to serve you tea and biscuits in front of the telly, each and every base is covered.
Check out all of our galleries for the selection of escorts by visiting our home page.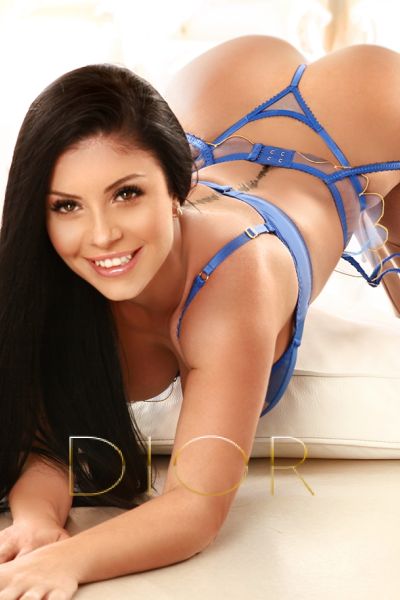 Brandy – 25, High Street Kensington
You have never seen a woman look better in a latex outfit than Brandy. She not only offers full BDSM services but oozes sex appeal and knows how to make every inch of your body tingle with pleasure.
If you have ever thought about living out one of your dominatrix fantasies then why not let Brandy show you the ropes? She can push limits when she needs to but is capable of easing you into the depths of a world you only once dreamt about.
She boasts her natural dark, Spanish features and stands at 5ft8 tall without heels. Her 36DD/25/35 figure is the cherry on top of what is already an amazing package.
To learn more about Brandy and arrange a booking, you can visit her profile.
Bobby - 32, Paddington
This blonde haired, busty beauty originates from Eastern Europe and is a lover of life. She has been in London for a while so is proud to say she has a good understanding of the English language making her a great date for dinner dates, social events and many other occasions.
She looks fabulous in everything that she chooses to wear, from casual relaxation clothing to evening dresses and full glam. If you find yourself looking for a lady who is an undercover naughty temptress then Sonia most definitely is your woman. You may not realise upon first meeting her but once your experience has started your eyes will well and truly be opened.
To learn more about Bobbi and arrange a booking, you can visit her profile.
Call 02038595225 and speak to Rachael to make your booking for either Brandy or Sonia, she is happy to help and can potentially suggest some date options if you are stuck for ideas. If neither of these beautiful ladies are what you are looking for, you can browse through our full selection of mature escorts by clicking here. We have a diverse array of girls available so you are certain to find the perfect escort for you here at Dior Escorts.