Meet The Dominatrix Who Loves Dishing Out Pain
08 February 2023
There are a lot of escorts in London, but few love dishing out pain quite as much as Mistress Devon. She is one of our top escorts and you only have to spend a moment or two browsing Dior Escorts to see why. Though we have an array of dominatrixes available, Mistress Devon really goes above and beyond what many others are capable of. She's talented, professional and passionate about the work she does. This isn't just a woman who likes to dominate every once in a while, this is a woman who loves to take control and make others feel her wrath. The sooner you book Mistress Devon, the sooner you will see why she's everyone's favourite goddess.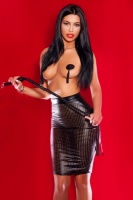 Dominatrix Services in London by Mistress Devon
When we say that Mistress Devon does it all, we really do mean it. From CBT to cross dressing, from extreme domination to canning, Mistress Devon is a dominatrix that ticks every box. Paddle, breathing control, tie and tease, whipping, human chair, smoking, fetish play, fantasies, humiliation; she really is an expert in everything you could possibly want. If you're nice, she might treat you to something special. Otherwise, pain meets pleasure all the way.
Bend over and get ready
Our Very Sexy Brunette
Mistress Devon is gorgeous, that much is evident from the moment you meet her. She's a busty brunette with curves in all of the right places, and legs that go on for miles. She also has a whole host of sexy uniforms to impress you with, if you have been a good boy that is. She looks exactly like her photographs, possibly even better. She is a woman who leaves you speechless, and that's before she's had her way with you.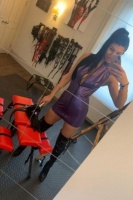 Would you like to be this sexy Dominatrixs boy toy?
One of Mistress Devon's favourite things to do is to use toys, and she has an impressive collection. She'll inflict pain on you with clamps and whips, and then show you who's boss with something a little gentler. It's this incredible selection of sex toys that allows Mistress Devon to tailor her domination services to you, ensuring that you get just the right type of pain to get you off. You can request a specific toy or uniform but remember, Mistress Devon is in charge.
Mistress Devon at Dior Escorts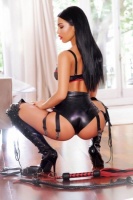 Regardless of whether you are an experienced submissive or you want to be dominated for the very first time, Mistress Devon is certainly the dominatrix for you. As we said, she loves to dish out pain, and she will take you further than you have ever been before. This isn't just a one off sexual experience, and she's not a standard escort who dabbles in domination. Spending time with Mistress Devon is an experience that you are going to remember for years to come. To find out more about this Mistress or to book one of our gorgeous escorts, get in touch with the Dior Escorts team. We are always happy to help.