A showcase all about Caprice
05 September 2021
Welcome to this weeks showcase which is all about one of London's firm favourite escorts – Caprice!
Caprice has been here in London for some time now (on and off) and people love her just as much now as they did when she first arrived – hence Caprice getting a showcase on London premier escort agency!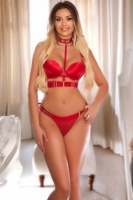 Caprice herself
Is fun and bubbly she is a beautiful lady with a heart of gold, so friendly people just love talking with her, she can engage you and that to me is a very important deed. You'll feel like you have known Caprice for years!!!
That's all good but what about her body?
She's tall, very tall indeed (5ft9) and has the perfect shape her natural 34C boobs look perfect – if you check out her profile you will see a number of pictures that show off her great boobs.
Caprice seems to have legs which go on forever, it like they go from the floor all the way up to her neck we could start talking about her perfect bum, but I don't think we have enough room on this page!
Caprices look….
Well, she is a blonde – the number of blonde escorts in London seems to have decreased the past few years, she has gorgeous hazel eyes.
Caprice loves to dress up – just check out her pictures and you will see, if you book Caprice for a dinner date then you will be greatly surprised at just how professional our sexy escort can look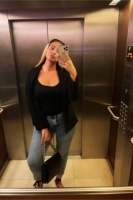 Where is she based?
Caprice has always loved living in Bayswater – she's found that the appeal of people booking an incall with her there is too much for most to resist.
She has lived in Earls Court previously but didn't really like it.
Currently you will find her in a very convenient apartment close to Bayswater and Queensway tube stations and not far from Bayswater Road.
Fun and bubbly is good but what does she like?
So, your in the company of a beautiful woman, she's fun intelligent and outgoing and then you find out that she has a really great long list of likes – could life get any better?
Owo, rim (rec), lap dancing and stripping, roleplay, massages, foot fetish, dt, 69, ws (give), gfe, fk
That's a nice selection right there and that's one of the reasons that so many people who see Caprice return time and time again
Caprices rates
Since the end of COVID everything seems to have had a price increase, you will be happy to see that Caprice hasn't, I would even say that now Caprice is classed as "cheap" but she is by no means a substandard lady – by booking time with Caprice you are geeting a whole lot of London escort.
                                                Incall               Outcall
30 mins                                   £100                N/A
1 hour                                     £150                £200
90 mins                                   £250                £300
2 hours                                    £300                £350
Add hours                               £150                £150
Overnights – 8 hours              £1200              £1200
Caprice can also play dress up
A game of dress up can really change the dynamic of the evening and push it to new heights so Caprice has brough lots of outfits – remember Caprice does like catering for all!
Amongst some of the sexiest are sexy secretary, police lady, schoolgirl and headmistress.
She also has a wardrobe filled with beautiful dresses and amazing "going out" clothes, she loves her high heels and ardours sexy expensive lingerie!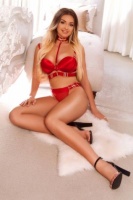 If I want to see Caprice, will she have a friend to join in?
Our reception team are asked this all the time and it's great to be able to inform everyone that Caprice does duo with a number of girls, she loves it and a duo with this sexy blonde is one to be remember.
Mya – a tiny and striking brunette
Rikki – a very sexy blonde who is lots of fun
Syringa – a mystical and foxy lady who is getting great reviews!
It's easy to book your time with Caprice
Our reception lines are open daily from 10am until late and you can contact the girls ( Rachel, Danielle or Claire) by simply calling us on 02038595225, if you are viewing this site on your mobile you can also use the WhatsApp and SMS contact buttons located at the bottom of the screen.
If you would prefer to send an enquiry via email then just use our bookings form – we advise that this is not used for same-day bookings.