The growing popularity of busty escorts
16 April 2022
The popularity of busty escorts has grown like no other category this past year, so we thought its time that we look at this.
Google "Busty Escorts London"
And you will of course find our website – DiorEscorts.com, we are at the top of the pile with just one other agency above us – Admiral Escorts Agency, position 2 for any key term is a nice place to be sitting but of course we want position 1!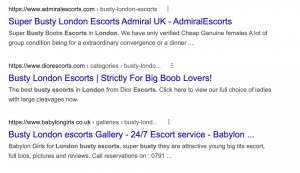 There are plenty of variations of this keyword that we are in the top 3 positions for – after all the work that's gone into it over the past 10 years is colossal.
This brings us in a huge amount of traffic, and this shows you just how popular busty ladies are, in fact this is the 3rd most used category on our website behind – selfies and videos (two selections that we championed I might add). This traffic converts into bookings and the ladies in our busty gallery are very busy girls.
Ladies with large boobs.
It's nothing to be shy about, boobs are great be they real or enhanced, we don't discriminate here, and we are pleased to say that both the natural and enhanced galleries are equally viewed.
It's a fact that men love busty woman and when our ladies put on a tight dress, a low-cut top or some sexy lingerie they get plenty of attention.
The most booked busty escorts at our agency.
To give you a little insight into what people are looking for in terms of a busty lady, we thought it would be a good idea to share with you the most booked women from that gallery.
This is our top 5 and is current at the time of writing.
Eva – her boobs are enhanced and are 32DD, people just love the way she comes across – just check out her reviews. Eva works very hard at keeping her body extremely tight just to emphasize her massive chest.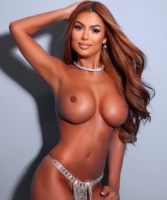 Eva loves to show off her very sexy boobs 
Jessica – has a 32D chest and on such a tiny frame her boobs look even bigger, Jessica is a very popular escort and is listed in many other categories.
Aly – a 34C natural chest that just can't wait to show off at any given moment. Aly is one of the most well dress escorts here and always looks' hot. Her favourite evening wear is a tight-fitting LBD that shows off her cleavage well and for those of you with a foot fetish, strappy high heels!
Haifa – I don't think there should be an article about busty women that doesn't mention this incredible lady. Haifas' boobs look great be them in her pjs, in her gym wear (a tight-fitting crop top on Haifa is another level), an evening dress or, if you are lucky enough to book her for a week away, a very small bikini – which she loves to wear as soon as she gets the chance!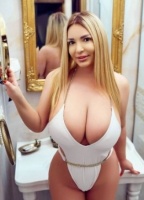 Clovers boobs are real and look so sexy
Clover – blonde, sexy mature escort Clover has 36DD natural boobs which make her very sought after, she knows how to use them and will take you in-between her breasts in a second! I know, can you imagine!
What is so special about a busty woman?
For me it's the idea of a tit wank, crude as it sounds it's the truth and I do believe that for many of you it is the same.
The idea of meeting a lady with massive boobs and sliding my oiled-up cock in and out of them until I shot my load over her neck / face / breasts is one of my biggest fantasies.
It's the age-old story of the pearl neck lace!
What is a pearl necklace?
For those of you who don't know what a pearl necklace is then read on – no it's not a string of pearls that you grandma would wear to Sunday lunch!
This is a sexual act – one of the best and happens when a man spunks over a woman's throat or chest. The semen looks like a pearl necklace - if your aim is not too far off! It's a great way to finish off – be it from penetration (please always practice safe sex), wanking or a tit wank!
Other points that heighten the popularly of big, boobed escorts
Cleavage
Wear a tight-fitting low-cut dress or top and show it off, this is the bit that shows when a lady's boobs are pushed together, showing a bit of cleavage can make a man do anything that a woman wants him to do.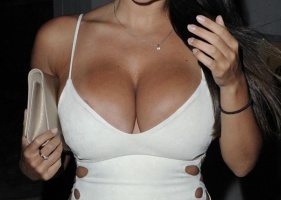 Showing off the "prefect" clevage
Visual
Us men are simple creatures and looking at a big pair of boobs is enough to finish all of us off!
Touch
"More than a handful is a waste" The line from 80s film Weird Science.
You can't blame anyone, male or female for wanting to touch the perfect pair of big boobs. Fully bisexual escort Madeline tells us that it's one of her favourite things to do when she gets booked to entertain a couple, she also loves it when the lady does it to her!
Foreplay
A great way to start off some sexy time, a little play with her boobs! A feel under the shirt, a little touch here and there over dinner – when no one's looking! Pulling the ladies bra off to "unleash" her colossal boobs.
Each one of these points offers insight into why men love booking time with the ladies listed in our busty escort's gallery but there is so much more to explore!
Big nipples do they turn you on?
Women with big boobs who don't wear a bra? Charlie Dimmock?
Red lace or black lace bras?
Big boobs with nipple tassels?
The list could really go on and on but it would be interesting to hear some of your thoughts on this subject.
Do you book time with one of our busty escorts because of her boobs? Perhaps its something else that draws you?