Two sexy brunettes
07 July 2021
Its been sometime since we last did a show case on any of our ladies here in the Dior Escorts Agency blog and I though it about time that we started again, just a little closer insight into a certain girl ( in this case 2) now that we know them so much better, and what better pairing to start with other than Jessica and Glory.
You will find them
In a very comfortable apartment in Bayswater, its very easy to find and not too far from Bayswater and Queenway tube stations. Its off the main hussle and bustle of Queenway – although if your there then you could see this lady, the lovely apartment is in a tree lined street – like something out of a picture book and leads you down to Paddington. If you are driving their incall has the bonus of you being able to park on the street – there anit many of our incall escorts who have this option now because so much of the parking is "permit holders only'
Two of the sexiest escorts
That you will meet and that has been said by many, the girls both have such great reviews, they have been in London on and off now for a couple of years and everything they come back there is a mad rush from their regulars to make a booking with them. Read some of the girls reviews on their profiles and you will see just how popular both these escorts are.
Where were they before.
Both Jessica and Glory have lived in Paddington – their beautiful apartment had canal views and was very close to one of my favourite bars.
Then after a stay in Earls Court – well on the boarders of Earls Court and High Street Kensington, they went home to wait out last years pandemic!
The apartment in Earls Court was beyond lovely and some of you have commented that this was the best apartment that you have ever visited.
Jessica is waitng for you!
The lovey Jessica is a great escort,
The perfect escort in Bayswater if you ask me and heres some little facts about her.
She is 25 years old

160cms tall

Has 32D boobs which against her tiny frame look even more massive than they are.

She is very open minded with likes such as 69, gfe, owo, roleplay and spanking (evening writing about getting spanked by this sexy brunette wearing just a thong and fuck me shoes is turning me on).

She loves to dress up and show off her figure.

Has very sexy lips, a tight bum and an amazing smile.
Jessica has posted both videos and selfies to her profile and I have got to say that these are the hottest that any of our ladies have posted.
And now Glory
Well what can we say about Glory? Shall I tell you how great she moves her body – the fact that she knows just how sexy she is makes her even more sexy! Shall I tell you that at 22 years old Glory is one of the most pleasing and teasing escorts that there is – and we are not just talking about London here I mean world-wide!! Well, that's my thought on it!!
Glory is happy to see couples (FFM & MMF).

She likes cim and CIF.

Has natural boobs.

She has her alevels.
Has a very sexy selection of outfits – can you. Imagine arriving to a work meeting and being greeted by a sexy secretary called Glory, whose lost her pencell under the desk and is bending over to find it……. With her arse sticking up in the air and the soles of her very sexy stilettos on view…. I've come well over track there and got lost in the moment.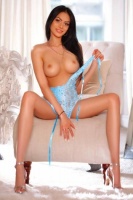 Jessica looks even better in real life
You see with two girls as hot as
Jessica and Glory the sky really is the limit, the girls know London very well so if you want the perfect date to head out on the town then these two are for you. I have said time and time again about walking into a venue with a babe on your arm from our escort agency, but can you imagine walking in with two? Both dressed to perfection with amazing make up and just showing enough skin to draw the attention of……..
Rates for these two escorts
Glory's incalls start at £200 her outcalls at £250
Jessica's incalls start at £200 and her outcalls at £250
To book both ladies together then you have got to double their rates.
A breakdown of all rates and additionals can be found on each of the London escorts profiles
You can book either of these lovely ladies via their profiles, we are hoping that very soon their pictures arrive for their sexy duo profile but for now you will just have to wait!
You will be very pleased to know that since writing this blog the photos for Jessica and Glorys' very sexy duo profile have arrived