Why are Russian escorts so popular?
22 March 2023
Dior Escorts Agency was always known for Eastern European ladies. A couple of years ago, this changed!
A client asked us why we didn't have any Russian ladies listed.
Then, we decided to add a Russian gallery to our site; within days of us adding this gallery, the number of extraordinary Russian ladies applying to advertise on our sites jumped from zero to many, just in a day! And now our agency is one of the go-to agencies if you wish to spend time with a very sexy Russian babe.
We now have a selection of extraordinary Russian ladies. We have blondes and brunettes, young and mature, open-minded and not so open-minded, with ladies listed in most price ranges.
The cost of spending time with a Russian escort
You will see that our agency has Russians listed from £200 per hour (for an incall) up to £750 per hour, an extensive range that gives you loads of availability.
Many of the Russian escorts list additional likes, which carry a minimal surcharge, it is not uncommon for the ladies to want this, and clients are more than happy to pay because what they get can't be compared.
Where are the Russian escorts located?
Like our escorts from all over the world, you will find our Russians located all around Central London, from Mayfair to Paddington and down to Earls Court your end destination is down to where you want to travel.
The girls will, of course, travel across Central London for an outcall. A few will even venture out to Heathrow Airport – we would advise that if you're at Heathrow Airport, you pick a lady who is in the areas of Paddington, Bayswater, Notting Hill, or Hammersmith. It's much quicker for these ladies to reach you, and the taxifare won't be as high!
If you are on holiday and want some company, you could stop off at Tabitha's for a late-night meeting out of the sun, take her to a beach club, or maybe have a little dinner at The Cheese Cake Factory.
Who are the best Russian ladies at our agency?
There are so many great Russians listed at our agency that it simply wouldn't be fair to know who is the best, so we will give you the details of a few trendy girls who have clients return to them repeatedly.
Nyla – wow! Located in a beautiful apartment in South Kensington, getting to this sexy blonde Russian is easy – South Kensington tube station is just around the corner, and she has on-street parking. This woman knows what she is doing and is so popular; we recommend booking in advance if you want to visit Nyla, as she is very popular.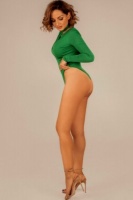 Parker – loved here at Dior Escorts Agency, such a friendly, warm, and welcoming woman who is as open-minded as beautiful; Parker has posted videos and selfies on her profile so you can see what you're getting before you arrive. When you visit her profile, you will see that Parker has many 5-star reviews!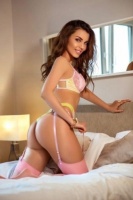 Nelly – a sexy brunette with a killer figure, is such a shame that she has her face blurred on the site. You lose the look of her sexy come-to-bed eyes! Nelly is new in London and has made quite an impact on the team and our regular clients.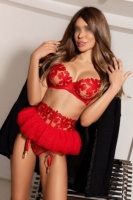 What type of client books a Russian lady?
Anyone and everyone! We have older gents who love the company of ladies such as Veranika because they give them a more relaxed feel, people looking to party the night away with a knockout babe who loves a woman like Annushka, and those of us that enjoy the finer things in life can't stay away from escorts like Ida.
Many of the ladies are available to single gents and ladies, couples both FFM and MFF. You can even book two or three at a time!
Remember, whatever type of evening you're looking for, one of our Russian escorts will match your requirements. Of course, you can visit our Brazilian gallery should you wish to see a lady from South America – a Russian and a South American. That would be some evening.
Would you want to marry one of these Russian escorts?
There is no need; the choice is so great; why would you want to tie yourself down to just one beautiful woman when you can travel the world, pop in or come and visit a different girl every hour of the day? You, of course, would be labelled a legend!
Add all this up, and there you have your answer to why Russian ladies are so popular!