A Great Selection of Ladies - My Top 5 (2020)
03 November 2020
Just the other day Rachael was ask if I was real, me James Dior. She gave a little chuckle to herself and confirmed that I was indeed a real live human being. Live and kicking.
I still deal with the day to day running of the agency and of course meet all our wonderful ladies, Rachael and Danielle love dealing with me and making sure I am happy – they do this by wearing fishnets and black stilettos around the office. I think Rachael and Danielle are one of the main reasons to why we are one of the best escort agency reception teams in the whole of London.
So today to prove I am only human, I decided for this blog I would share with you my top five escorts; I do of course have a type and I think it shows by the ladies that I recommend here! I shall get Rachael and Danielle to write a blog of their top five as well, so you get a well spread out selection of ladies to pick from. Believe me, this is not an easy list to make when you consider there are over 150 stunning ladies featured on our website.
1. Aylin
Where do I start. Aylin is 25, she is Eastern European and speaks perfect English. She currently is based in Gloucester Road, Kensington – very close to the tube station. 
Her apartment is out of this world (if you wish to visit someone for an incall and want a place to unwind them its great) her bedroom is like a sanctuary, her bathroom a great place to have a shower, there is a exquisite lounge / kitchen / diner (I should be an estate agent here).
Aylin's figure is 36D/24/34. I do love a lady with a curvy body but most of all I love a lady who puts some effort into what she looks like and what she offers – to me OWO is the most important item on any ones like list.
Check out Aylin's profile and you will see that so many people agree with me by the reviews they leave.
Aylins rates start at £150 for an hours incall or £200 for an hour's outcall.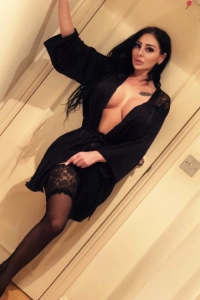 2. Aly
Busty, sexy and very very pleasurable number two on my list is the lovely Aly; a 26 year old brunette (can you start to see a pattern forming here) from Eastern Europe with a cracking figure, 34C/24/34, and standing at 165cms – the very perfect look.
Aly loves to dress up and roleplay, to me a woman walking around dressed as a sexy secretary wanting to take down my particulars is a winning formula. It's true I love it and Aly does it very well just you want until she turns up at your hotel room in a sexy skintight black dress and 5inch black stilettos!
Another well groom escort, Aly is close to Earls Court tube station, she has loads of very good reviews, a few selfies and some videos on her profile – all the ladies are now adding these to their profiles.
3. Jessica
A tiny brunette who is very open minded and lots and lots of fun, just take a long look at her likes and you will see that Jessica is up for most things. 69, gfe, owo, parties, rimming and so much more are included in her hourly rate, but she does have some really naughty extras.
Jessica loves to see couples, she is fully bisexual, a skilled hand with a strap on – happy to use on either, and the owner of enough sexy outfits to keep even the most broadminded person happy.
Incalls with Jessica start from £200 for an hour, she will travel across London to come and see you for an outcall – starting at £250 plus cab fare. 
She is 25 and so friendly, her natural 32D boobs are flawless and will hold your attention all evening long!
Jessica is friendly, warm and naughty and hence why she is on my list!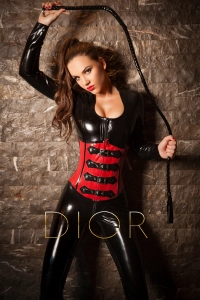 4. Erika
Erika has been with us for some time and in that time, we have seen her grow, like me she loves to train and has the most marvelous figure, so much work has gone into getting her figure, she has really done well and it's all paid off.
Erika lives in a very large apartment just 5 minutes walk from High Street Kensington tube station, she caters for incalls here which start at £300.
Erika's video was the very first to be added to our site and has had an enormous amount of traffic.
Erika is complete filth and one of the most adventurous escorts that I have ever meet, she is willing to try anything once. An owner of a huge amount of outfits, toys, shoes and latex Erika always looks good.
A head turner no matter what restaurant you walk into, you will be proud to have this great brunette on your arm.
5. Tiger.
An elegant and intelligent dark blonde (well its really dark) Tiger is located in a lovely apartment in Bayswater.
Take a moment to go and check out her video, in this she shows off her beautiful boobs and lovely face – Tiger has a 36D bust.
At 23 years old Tiger is very experienced and very open minded, she loves to dress up as a bunny girl, loves to show off her sexy feet in the highest of heels and loves to show off her gorgeous figure in any number of sexy dresses.
Tiger is friendly, she is engaging, and she is willing – all the traits of a perfect London escort.
And there you have it, my top five – well at the moment, now I am not saying that this would change tomorrow, it probably will but the choice of ladies on this list is well enough to keep you going.
Remember that these ladies, like all of the ladies whom appear on our escort agency website, need to be treated with the upmost respect and anyone that feels that they cannot do this should not book time with them!