December 2022 new girls arriving at our agency
14 December 2022
What a year this has been, not just here at Dior Escorts but across the world!
Base rates up and down, cost of fuel, one of the most powerful countries in the world going to war with its neighbour. Thank God that one thing has stayed the same!!! You will find the very best escorts in London here!
Its right, time and team again we hit the high notes with the calibre of women that we work for and again this month we have done it.
Read on for a short cut to learn about the new escorts you will find in our gallery, just a snippet into them, a taster if you would of what you can expect!
Here we go……
Kennedy – based in Earls Court, £200 for a 1-hour incall (cheap now), 23 years old with natural boobs.
Kennedy has selfies on her photos but no video – which is a shame, her collection of professional photos aren't the greatest but the effort that's gone into those selfies more than makes up for it.
As of writing there are no published reviews on her profile, but we are hoping for great things for this saucy lady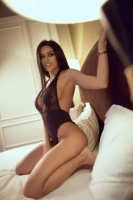 Esmae – a real firecracker blonde who at 19 years old is more than sexy, you'll see her phots of her cream lace lingerie
Esmae has posted some selfies and an hour of her time at her place is only £150. What? A £150 girl looking like this? Yes, it's true!
Already this sexy little plaything has a number of 5-star reviews making her quite possibly the most popular of all the new escorts at our agency.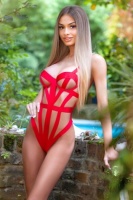 Nyla – one of the more mature ladies to join our sites and at 28 years old one of the hottest! Just some time to savour how good Nyla looks.
I think the photos of Nyla in her green body, with strappy heels on (so many of you know that I've got a major thing for strappy high heels and sexy feet)
No reviews left of Nyla yet but already she is getting return customers!
Maelle – the type of escort that I love, beautiful brunette, sexy curves, great arse, fuckable feet and £400 an hour so not everyone can have her.
Her photos aren't the best, but you'll see in her selfies that she really does know how to wear a sexy dress.
Maelle looks very sexy in her video where she proudly shows off her blow job lips.
Want to take Maelle out for a dinner date, just you her and your partner??? Male or female Maelle doesn't mind, she just loves to play and get naughty!
Ellis – at the time of writing Ellis is getting ready to jet off on a travel date, very naughty week away with a very lucky returning customer! A man who knows his beautiful woman and savours his special time with this 20-year-old babe.
Ellis loves to party and is enjoying being here in London – she's used to the cold!
Latvian, natural boobs with blonde hair and brown eyes the personification of a very high-class escort and Ellis can be booked for just £300 an hour.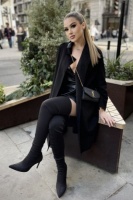 Shonda – Italian busty blonde who is a "little pocket rocket", loves to show off the sexy arches of her feet by wearing the kinkiest shoes she can find! Fancy licking her heels? After she's been walking around all day in them? Shonda has posted selfies and videos – no wanking please! The real thing is so much better!
That's quite a few new ladies for all you lucky men to choose from and it's only the beginning of the month, we have new ladies wanting to sign up to our agency every single day and the choice just keeps growing – if you are escorting here in London and you want to have Dior Escorts represent you then fill this form in, and someone will get in touch!