A one night stand or visit an escort
09 March 2022
There is certainly something appealing about having an affair or a one-night stand, but the hassle and risk involved puts a lot of people off. One way to enjoy the benefits of being with another woman, but without the stress, is to book an escort. At Dior Escorts, our gorgeous girls are there to ensure your sexual needs are satisfied whenever you need them to be.
Here's Why Booking an Escort is Better Than Having a One Night Stand
●      No One Gets Hurt - If you are looking to have some romantic fun outside of your relationship, an escort is the ideal way to ensure no one gets hurt. With an affair or a one-night stand, you run the risk of someone being disappointed when the relationship runs its course. With an escort, this isn't something that comes into play. From the very beginning, an escort understands the boundaries of your time together. They know it's a one-time thing, a casual encounter that doesn't go any further.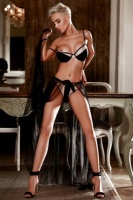 Are you really going to meet a girl as hot as this in a bar?
●      It's Company if You're Single and Lonely - There is no need to be single and lonely, not when you could be enjoying the company of a stunning escort. Instead of spending night after evening alone, you can book an escort and enjoy a fun time with a gorgeous woman. It's not always easy to find someone to have an affair or a one night stand with, but booking an escort couldn't be simpler. Within a matter of minutes, you could be on your way to have fun with one of our popular women.
●      You Can Meet Somewhere New in a Strange City - If you are heading to a strange city for business or pleasure, it might be difficult to find the time to meet a one night stand; it's even more difficult to find someone to have an ongoing affair with. However, meeting an escort is quick and easy wherever you are. You only need to be in a city for a minute or two before you can start organising a passionate evening with your dream escort. You don't need to find a busy bar and meet people in a city you are unfamiliar with. Wherever you find yourself, an escort is always a straightforward option.
●      No Need to Worry About Future Repercussions - There is always the risk of future repercussions with a one night stand, even more so if you have an ongoing affair. For example, there is always the risk of unwanted pregnancies or sexually transmitted diseases. These are both things that could cause you problems in the future. With an escort, this isn't something you need to worry about. Our escorts take all the necessary precautions to ensure there are no future repercussions for either of you.
●      Cheaper Than a Night Out - If you are heading out in the hope of having a one night stand, you should expect to spend a fair amount of money. Not only do you have to cover the cost of your own entry and drinks, but you are also likely to find yourself buying drinks for your one-night stand. You might have to factor in the cost for a taxi, for dinner and for their journey home. This all adds up and your night could become quite expensive. When you book an escort, you will know how much you are paying from the beginning. There are no surprises or unexpected costs.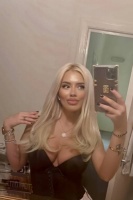 Hailey knows the score and she WON'T be calling you in the morning!
●      There's No Effort or Stress Involved - If you have had an affair or a one night before, you will know that doing so can be hugely stressful. There are a lot of lies, deceit and secrets associated with your actions, all of which can cause stress and anxiety. With an escort, this doesn't need to be the case. Once you have enjoyed an evening with a gorgeous escort, you can continue on with your week without feeling stressed or guilty. You can look back on your escort encounter positively, without stressing out about what could happen.
●      No Need for a Separate Phone - A lot of people who have an affair or a one night stand have two phones, all so they don't get caught by their partner. When you decide to book an escort, you don't need to worry about organising a separate phone or hiding your messages. There is no need to have another phone to contact your affair partner or one night stand, as an escort won't be contacting you or pressuring you to meet up again. Booking an escort is entirely on your terms.
As you can see, there are a tonne of benefits that come with booking an escort. Instead of having an affair or a one night stand, which can be hugely stressful and risky, you can enjoy the company of a woman without worrying. All you need to do is arrange a date with the escort of your choice - you could enjoy dinner together or a party, or you could meet in a hotel and get straight to the fun stuff - and enjoy spending time with a beautiful woman.
Booking an Escort at Dior Escorts
At Dior Escorts, you won't find yourself short of choice. We have a vast selection of escorts for you to choose from, all of which are ready and waiting to see you. Regardless of your 'type' and sexual interests, you will be able to find an escort that ticks every box. Browse our gallery today, make a booking and meet one of our gorgeous girls as soon as you like.