A review left for Pippa
25 October 2021
As a couple, it's not always easy to find an escort. Not only do you need to find someone that you both are attracted to, but you also need to find a lady who books couples and enjoys spending a couple of hours with two people. We had been looking for an escort for a while, but we found it difficult to find someone local to us who accepted bookings from couples. We didn't simply want an escort who claimed to like women, we wanted an escort who was fully bisexual and open to sexual exploration as a three. Luckily, we found exactly that in Pippa. Pippa really is every couple's dream and we have already recommended her to a friend.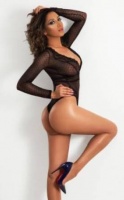 Pippa loves the company of couples 
Why We Booked an Escort
We had been thinking about involving other people in our sex lives for a while, but we didn't want anything serious, and we didn't want feelings to be involved. We are very open about trying new things, but sometimes a third person is what's needed. This is how we settled on booking a professional. It's a way for us to explore our sexual sides and broaden what we can do in the bedroom, without the pressure of finding someone who genuinely wants to join us. With Pippa, we knew everything would be straightforward. Booking her allowed us to enjoy a threesome, something we had wanted to try for a while, in a way that ensured everyone was comfortable and on the same page.
Why We Choose Pippa
The first thing that drew us to Pippa's profile was that she offers her escort services to couples and that she is genuinely a bisexual. We didn't want to book someone who merely played with women because they needed to, we wanted someone who enjoys women just as much as they enjoy men. Pippa definitely does, there is no denying that. It's obvious that she's open and up for a good time in the bedroom. She is just as skilled at pleasuring a woman as she is a man.
Pippa has brown hair, brown eyes and she is 26 years old. This fits what we were looking for perfectly and the moment we saw a photo, we knew we were keen. She has a body that all men love and the sex appeal that draws women in. Of course, her 34C breasts are an added bonus. As we don't have a lot of experience booking an escort as a couple, we didn't know what to expect. However, Pippa really showed us how much fun we can have with a third person in the bedroom. She looks exactly like her photos, sexier if anything!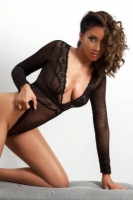 Pippa is one very sexy lady 
Our  Experience With Pippa
Booking Pippa through Dior Escorts was very, very easy; everything was straightforward and quick, we knew exactly when we were meeting and how much it was going to cost from the beginning. That is one thing that sets this agency apart from other escort agencies, they are upfront and transparent about everything.
For us, it made sense for Pippa to visit us at our hotel. We stayed at the Park Tower in Knightsbridge and Pippa came over around 8pm. Since Pippa is based in Bayswater, she wasn't too far away and was more than happy to travel to us. She was on time and turned up looking incredible, we were both very impressed with the amount of effort that had been put into her appearance. It's clear to see that Pippa takes care of herself and takes pride in her appearance. She really is a stunning woman, and she looks exactly like her photos. We chatted, relaxed and then got down to business. Everything felt very natural, Pippa did a fantastic job at helping us to unwind and let go of our inhibitions.
We booked Pippa for two hours at a cost of £600. Though we did initially consider booking her for one hour, we decided to fully enjoy the experience and spend two hours with the beauty. After all, it's not often you get to spend an evening with one of London's top escorts. The price really does reflect the high quality, luxurious and satisfying escort service that Pippa provides. There was an additional cost of £100 on top of Pippa's standard outcall rates because we are a couple, but that's a bargain considering you both get to be involved in the session and you are basically getting double the fun.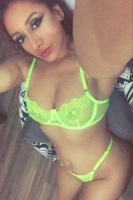 A beautiful selfie of a very beautiful lady
From the moment Pippa arrived, we knew we were in for a treat. Pippa is an open and willing bisexual, so she enjoyed splitting her time between both of us before we all got involved together. We were initially worried that someone would be left out at some point, but Pippa ensured we were all exploring each other, and everyone was involved. It didn't feel awkward at all and Pippa certainly didn't have a preference between us. Our only complaint is that the time flew by, and we immediately wanted more time with Pippa.
Our Favourite London Escort
There is no denying that Pippa is our favorite London escort, it's why we plan to book another session with her very soon. As soon as we can find the time, we will be looking into booking Pippa again. Overall, it was a small price to pay for such an enjoyable experience. It's opened our eyes to trying more things as a couple and we will definitely be spending more time with Pippa again in the future. Though there are a lot of London escorts to choose from - we initially found it difficult to choose who we wanted as Dior Escorts has so many top women available on the website - we really hit the jackpot with Pippa. It's highly unlikely that we will book anyone else in the future, as there is just no need to. Pippa provided exactly what we were looking for and she ensured both of us were equally satisfied at the end.