Escorts Guide - Taking the Best Videos & Selfies
12 January 2022
At Dior Escorts, we have always tried to do things a little differently. We understand how popular escort services are, but we also know how difficult it can be to choose an escort. We are also well aware of the struggles that come with marketing yourself as an escort, as advertising your sexual services and standing out from other equally beautiful women can be tough. This is why we encourage our gorgeous escorts to upload selfies and videos, known as selfie escorts and video escorts, as a way to showcase your assets and stand out from the crowd. Not only does this allow you to 'sell' yourselves to customers, but it provides them with additional reassurance. 
Whereas professional photographs can be edited and manipulated - it's not unheard of for some women to alter their photos to make themselves appear more desirable or younger - this is not quite as easy with selfies and videos. Selfies and videos are commonly seen as a truer, more accurate representation of a person. Therefore, anyone browsing Dior Escorts can choose any of the girls found in our selfie gallery knowing exactly what to expect. 
Top Tips for Taking Selfies and Videos as an Escort
As an escort, you need to showcase yourself looking at your very best at all times. Though this may sound like a lot of effort and a fairly time-consuming task, it's certainly going to pay off in the long run. Think about it, if you were a customer in London who was searching for an escort, would you choose someone with a number of flawless selfies or someone with barely anything to show? Would you choose an escort with a wide range of sexy videos, or someone who uploads a handful of photos of them without makeup on? Would you choose an escort with only professional photos or an escort with fun and charming videos to show off their personality? There are a lot of escorts out there, so standing out and grabbing attention is key. Luckily, you can do this by taking the best selfies and videos. To help you out, we have created a guide detailing how to get started. 
Utilize Photography Equipment
If you are lucky, you will find a location with fantastic lighting for your photos and videos. Lighting makes a big difference, so finding somewhere with flattering lighting is like winning the lottery. However, this is hard to do and it's not a guarantee. This is why we recommend using photography equipment designed for taking selfies, such as halos and selfie sticks. These are relatively affordable and there is no need to break the bank, as a simple selfie stick can be just as affected as a higher-end product.
With a photography halo, you will always have the ideal lighting for a selfie. This means you are sure to look your best and be perfectly lit from every angle, regardless of how dark or poorly lit the room is. With a selfie stick, finding the perfect angle is easy. Not only does a selfie stick help you to take photographs from a flattering angle, but it allows you to fit a lot more of your body into the frame. You can show off your face as well as other areas. By combining both pieces of equipment, capturing a gorgeous image is a lot quicker and easier. 
Think About Your Background
One of the great things about selfies and videos is that they can be captured anywhere. Whether you are relaxing at home, enjoying a romantic dinner date, or partying the night away, you can snap a selfie and share it within minutes. Nevertheless, you should always think about your background. After all, you don't want to upload a video and later realise there's dirty washing in the background. Similarly, you don't want to share a selfie that's taken in a messy apartment. So, take the time to find an impressive background and always be aware of what is behind you.
A lot of customers will choose an incall service, meaning they will visit you at your apartment. Therefore, any selfies or videos taken in your apartment should display it in a positive light. It should be somewhere that appeals to your audience, somewhere they want to join you. It's just as important to think about your background when you are taking selfies when you are out with friends or going about your day. For example, a gym selfie is a lot sexier without random people working out in the background. 
Don't Forget About Makeup and Hair 
A lot of the time, selfies and quick videos are taken to share with friends and friends. They are often funny, lighthearted and designed to be viewed once before being forgotten about. However, this is not the case when you are taking videos and selfies as an escort. You should think about videos and selfies as a way to sell, advertise and market your services. Therefore, it's important to look your best. This means wearing makeup and doing your hair, not simply rolling out of bed and snapping away.
When you are taking videos or selfies as an escort - this applies regardless of whether you are adding them to our selfie gallery or you are using them on social media - you should treat them like they are your professional photos. You would take the time to do your hair and makeup for a professional photoshoot, so why wouldn't you for selfies? Everything you upload online is a form of marketing and advertising, it all works together to create a brand. Doing your hair and makeup shows that you care about your appearance. 
Of course, that's not to say that a woman doesn't look good without makeup on, but customers have a certain expectation of what an escort should look like. They want to see you wearing makeup and with styled hair, so ensure both are done before taking selfies and videos. In our selfie gallery, customers want to see exactly what they can expect when they meet you.
Consider Editing Your Photos
As a gorgeous escort, you are sure to look effortlessly beautiful in every selfie or video you take. But, that doesn't mean you should ignore photo editing opportunities. There are a lot of apps out there, as well as editing software that is built into your smartphone or laptop, that help you to edit your images. This isn't about changing your appearance and catfishing interested customers, it's about editing the image to remove any faults and improve the overall finish. 
For example, you can edit the colours to ensure you stand out as the main focus. If the lighting is slightly off and the image would benefit from brightening, you can make these changes easily. You could also play with the lighting, crop out unnecessary backgrounds and remove blemishes. Of course, it's important to avoid going too far when you edit photos. If you edit them too much, you run the risk of appearing fake and photoshopped. This can make it difficult for an interested customer to trust that you are the real deal.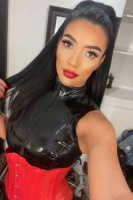 Our Selfie Gallery
At Dior Escorts, you will see that we have an impressive selfie gallery. This is where all of our escorts can display their selfies and videos, to entice customers and show off their assets. Our selfie gallery is a unique feature, something that many other escort agencies in London are lacking. It's the ideal way for customers to 'get to know' our girls, for them to get a feel for who you are and what you do. Not only does this help you to stand out from other escorts, but it showcases a different side to you. You aren't simply a beautiful escort who is posing in lingerie and sexy outfits, you are a charming woman who has personality and someone who is a joy to be around. It's a fantastic way to showcase a more 'real' side to yourself, which can otherwise be quite difficult to do as an escort.