My Experience With A Bisexual Escort
04 August 2018
When booking escorts who label themselves as 'bisexual' online, the results can often be hit-and-miss. There are many women who label themselves as bisexual but are not often interested in much more than the first course. Because Bisexual girls can often give you the best adventures that you will ever experience, there are a lot of escorts out there who will say that they are bisexual to attract the interest of punters, despite not being bisexual at all.
Here at Dior Escorts, you will never need to worry about fake girls, dishonest profiles or misleading information. The girls we list here on our site that say they are bisexual are actually bisexual. There are many benefits to booking a bisexual escort, but one of the most important is that many of these girls are happy to bring another girl along for a duo escort experience.
What follows is an account of one of our regular clients, recounting their experience booking a bisexual escort in London from Dior Escorts.
My Bisexual Dior London Escort Experience
I can't believe how many escorts there are in London, and how many of them were genuinely stunning. Yes, there are some with too much work done, but the majority who are prepared to take clients in central London are easily averaging 8/10. Now, there is one that stuck out from the rest.
She was really pretty with the most eye-catching smile, a smile so memorable I couldn't stop thinking about her for a number of days. I thought that maybe I should meet her as I couldn't get her off of my mind, so I left it a couple of days and then finally I decided to just call.
I arranged to see her for one hour, this meant we could meet and go for coffee, I could get to know her a little better and we could see where it would lead.
My Bisexual Escort is Booked!
Being new to this game I found myself feeling really nervous as I didn't know what to expect at first. I gained my confidence by running through the positives; I was looking sexy as hell and was ready to work my magic, I was going on a date with a stunning woman who had some of the best reviews I'd seen so if all went well I was ready to see magic too and we were in the amazing city that is London.
We met at Gloucester Road Station we decided to go for coffee at one of the cafes nearby and grab something to eat. The first thing that I had noticed, just as I had in her pictures, was her smile and she me feel like I was the only person in the room there with her.
A Hot Bisexual Escort from Dior
She also dressed to impress, really stunning but with a figure like hers I am sure she could put anything on and still look amazing. She was really easy to get on with, a really bubbly girl with plenty of enthusiasm.
I had originally booked for just one hour which I thought would be ample amount of time but I found myself lost in a world of lust and decided to extend the booking by an hour so we could move on to somewhere more comfortable.
We made our way to her lovely apartment and I can honestly say it was one of the cleanest, tidiest apartments I have ever been in. As a full bisexual I took pride in the fact I knew what I was doing and how to do it, however, after 5 minutes I felt myself give in and let her show me a few things that I didn't.
And then came dinner...
There is no way that she was just interested in the appetizer, or even just the first course, myself and her shared a three-course meal and she still could have kept going. Finally, I had found a woman who could please me just as I'd always wanted.
I've been seeing her on a regular basis since this initial date and can honestly say my views on working girls have changed and I am eternally grateful to Dior escorts for arranging our meeting.
In this day and age when escorts are using any means they can to stand out amongst the crowd, all too often you will come across escorts that are advertised as bisexual when they really aren't at all - and trust me, I can tell pretty quickly whether the girl I'm meeting with has that spark or not. 
Dior Escorts is always open and honest with their escort descriptions, so when you see a girl in the Full Bi gallery you know that you are booking an escort with that special spark.
Book a Sensual Bisexual Escort from Dior Today!
If you are looking for a stunning bisexual escort, Dior is the agency for you. Regardless of whether you are a man seeking a night of passion with two lovely ladies, a woman searching for an intimate encounter with a sexy escort girl, or a couple who want to inject some fiery passion into the bedroom, you will always be able to find your ideal companion right here at Dior. If you haven't already, check out our bisexual gallery. We can also give you an idea of the hot bisexual babes we have here on our site by introducing you to Madeline and Tammy, an energetic pair of bisexual babes who can be booked seperately or as a duo for the adventurous.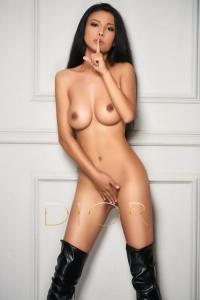 To book Madeline and Tammy as a duo pair, visit their duo profile!