Day time escorts
02 August 2018
I love this topic and I can greatly relate to it, hence why I thought that this was one of the best ideas for a blog yet!
Seeing escorts in the daytime!
Oh yes! What a great thing to do.
Our opening hours
Allow for you to make a date with any one of our ladies who has checked I, the phone lines open at 10 am Monday to Saturday and Rachael is ready set to take your calls! Some other escort agencies don't open until 6 pm, what's the point in that! With us here at Dior Escorts you can call in from then.
Why would you want to see an escort during the day?
There's a very simple answer to this very simple question! You want to book an escort during the daytime simply because that's the only time that you will not be missed! It's the only time that if you don't answer your phone for an hour you won't be in undated with phone calls. It makes sense!
Locations of our beautiful ladies!
We have escorts incalls located all over Central London, so no matter where your office or place of work is you can slip out! So many of the girls do 30-minute bookings that it gives you enough time to get where you have got to be, relax and unwind and then get back to work! No one will know and the better and that's the way that you want it.
Find my iPhone or such like.
I would still advise all of you to check your phones and make sure that any sort of tracking is turned off, the last thing that you want is your wife checking up on you – unless that is of course that she likes to play as well, we have a great gallery for open minded couples!
But in all seriousness take this point and work on it, perhaps even get yourself a second phone and leave yours at work, make all your escort bookings on the new phone but please please do not take this one home either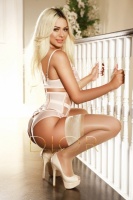 Chrisma Normally starts at around 11 am
Incalls and outcalls
It's not just incalls with ladies that we cover during the day but outcalls as well. Distress before that important business meeting by having a stunning lady come and visit you at your hotel. Afternoon and early evening meetings are very popular in Central London and you may find yourself checking into your hotel with time to spare, get someone to come to you, its so nice to arrive at a meeting with a clear head and I can think of no better way of doing it! So much better than having a swim!
Is there a downside to seeing an escort during the day in London?
The only downside that I can think of at the moment is the weather. As I write this blog it's not far short of 100 degrees outside and getting hot and sweaty inside is a little bit of a downer!
The plus point to this is that London is in England and we only get about 2 months of good weather a year! The rest of the time its freezing cold and getting someone to warm you up is great fun!