A Travel Guide To An Incall Booking
22 September 2020
We have been thinking long and hard about what blog to bring you next and then the other night one of our clients questions gave me a great idea. This client, who I won't name, was asking about how to get to Teagan's great incall apartment in Baker Street and it made me think, maybe we should create the ultimate guide to travelling to an incall escorts apartment. So here it is, my tips and experiences travelling around London to meet the girls. hopefully, my time can translate to offer helpful advice to you.
Driving Around Central London
Driving around London for many is a must. Personally, I am a big fan of the public transport methods, but for some people they just hate being in a confined space with strangers and prefer being in control of their own travel - which I can understand. For those who drive, benefits to meeting an escort using this transport method include being able to plan your day/night. You know when to set off and can rest knowing a delayed train can't stop your fun. As long as you avoid Fleet Street, Strand or Cannon Street in rush hour, you should be able to fly through the city centre and meet your date.
But there is just one thing you need to know, especially if you have a hire car and are not a regular to driving around Central London. Between 07:00 - 22:00, every day of the week, there is a £15 daily charge to drive through the Congestion Charge Zone. This charge only affects people driving cars or vans, with motorcycles exempt from the fee
The Congestion Zone covers the City of Westminster, Mayfair, Soho, Covent Garden, Bloomsbury, Finsbury, Clerkenwell and the City of London, being almost synonymous with the London Ring Road. This means if you are planning to drive to meet an incall escort during the day, you need to prepare for the extra £15 travel cost. To avoid the fee you can travel via taxi or public transport methods like buses and trains, or book your date to occur between 10;30 pm to 6:30 am, giving yourself a free window to travel by car. 
If you just can't wait and do want to book an escort on your dinner break or just after you've finished work, setting up Auto Pay is the easiest way to pay the Congestion Charge, but there is an annual registration fee of £10 per vehicle you register. If you do not pay and get caught, there is a £130 penalty charge (nearly the price of an hour with a London Escort) which is reduced to £65 if the fee is paid within 14 days.
London Cabs
Since Uber has banned in the capital in 2019, cabs have become a much more widely used transport method to getting around London. Cabs are a great way to great around the city and its always good to chat to a local driver who has seen it all and has stories to tell. The only issue in my mind surrounding taxis, is how expensive taxi fares have become, but this should not totally put you off. So let me tell you more about London cabs.
It is important to know that in London there are two different types of taxi in London. The first type is a minicab. If you call a taxi firm in London and book a taxi in advance you will be greeted with a minicab. Minicabs are good for the job to get you from A to B but are quite small. Minicab drivers tend to be very polite, but are not always experts to the local areas on London, meaning you may need to guide them around small side streets should the escort's incall apartment be located in a discreet location.
The other type of taxi in London is a black cab. Black cabs are quite famous in the capital being a point of tourism similar to America with their yellow taxis. Black cabs can we waved down whilst you walk the streets of London, with it never been too long before you see one drive past. Unlike minicabs, black cabs are very spacious often being able to carry 5+ people should you be meeting 3 or 4 escorts at a time, imagine that. The cabbies who drive black cabs also tend to be London born and bred, knowing the streets of London like the back of their hands offering the full Cockney experience along the journey.
Before you head out the door to flag down a black cab not knowing the cost of the fare, a great tool I use is Taxi calculator. The Taxi calculator estimates your taxi fare by calculating the distance and time between your current location and preferred destination. It may not be 100% accurate but is a must certainly if you are not a Londoner. Alternatively, if you really have the time and effort to calculate how much your own taxi fare should be, here is a table of how a London taxi is priced.
By Day
| | |
| --- | --- |
| Base Fee | £3.00 |
| Kilometer 1-10 | £1.71 |
| Each Additional Kilometer | £2.30 |
By Night
| | |
| --- | --- |
| Base Fee | £3.00 |
| Kilomater 1-10 | £2.45 |
| Each Additional Kilometer | £2.30 |
London Buses
London Buses have definitely changed over the last years and for the better. The old red buses which were associated with London, are now much more passenger and environmentally friendly. The new double-deckers still offer a great transport method to sight-see around the capital taking in all of the landmarks and are much comfier than before, however my personally drawn backs to buses comes down to fundamentally a bus being a bus and me just not liking the system.
For me, the wait between buses is just to much considering how fast paced the city is. I can not sit and wait for 30 minutes for the next bus or sit and wonder how long my bus is delayed for. I need my transport to be more efficient. I understand this is also affected by the general public. If you are waiting at 1 stop for 20 people to get on the bus, you are just adding time on to your trip.
On the plus side, the thing I do like about buses is the cost. For only £4.50 a day you can buy a day saver and travel on the bus as many times as you want. When compared to the price of petrol or a taxi fare, the cost to travel by bus is very reasonable and one of the main reasons I do think people could use a bus to meet an escort especially if it is saving them a few pounds which could be later spent on extending the booking.
So, for those of you that don't have a problem with buses like I do, here is an image of the key bus routes in London. As you can see the buses do offer travel across the entirety of Central London, meaning if you do understand the bus timetables and when your stop is, you can easily travel around the capital. Maybe if you try catch the early bus, even with a delay, the bus could be a great method of transport to help you meet an incall escort.
The London Tube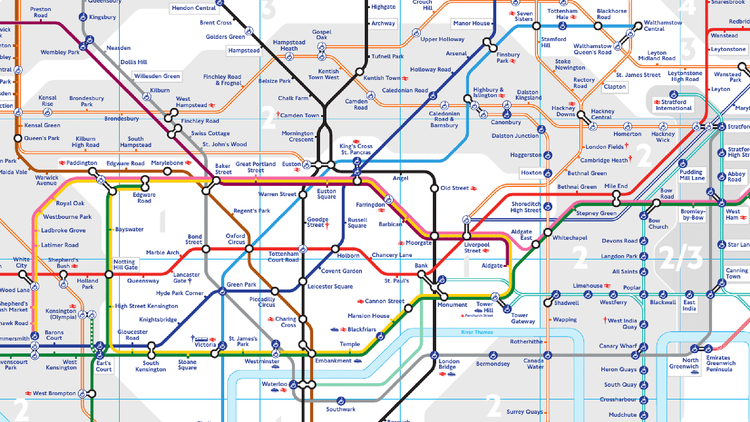 In my opinion, the Tube would be the go-to transport method for many gentlemen seeking to meet an incall escort because if you already have an Oyster card from commuting to work, it can be fairly cheap to travel across the whole of London to the nearest station.
From my personal experience of riding on a packed out tube during rush time, the tube is definitely the most popular method of public transport in London with commuters. I quite like the hustle and bustle of the Tube and the crowds don't really bother me. For others I can see why this would be a big put off. I can also see why some people may be put off by the £4.90 single journey charge. If you have an Oyster Card this fare would only cost £2.40 and whilst the tube is still slightly more expensive than a day saver should you want a return ticket, you can not argue that the Tube is more quicker than the bus.
To cater to the amount of people who do use the Tube, here at Dior Escorts, our girls profiles do actually include information about the nearest tube station to their address. This information can really help you should you look to use the tube because you know which station to get off at. The most popular tube stations which the girls are located close to are; Bayswater, Earls Court, Gloucester Road and South Kensington.