Show casing Elizabeth
20 July 2021
Welcome to this week's showcase on one of our lovely escorts, this week its Elizabeth's turn to go under the microscope!
What is Elizabeth all about?
Well, that's an easy one to answer, Elizabeth is all about having fun, she is one of the most exciting and playful escorts in London that you will ever meet.
She takes great pride in looking after herself with so many hours spent in the gym, those of you that go to the gym will know the amount of work that goes into keep a body that looks that great looking that great!
If travelling to see Elizabeth for an incall where would I find her?
Elizabeth is based in the Gloucester Road area of London, the closest tube station to her is Gloucester Road which is under 5 minutes' walk away and there is on street parking in the road she lives in
Her apartment is super clean and extremely tidy – you only have to look at her to see that this is a woman that takes a vast amount of pride in herself, so that's the least that we would expect.
Super sexy or super-hot?
Both!!! In another life Elizabeth was a dancer and quite a well-known one, she was famed for really working the pole and people came back again and again just to see her shake that incredible figure! Elizabeth has 34DD boobs – they are enhanced but what's wrong with that? Set against her slim frame they look even bigger! I want you to imagine what her boobs would look like caged behind a skintight white (yes white) fishnet bodystocking!!! I know, it's all most enough to finish you off right there!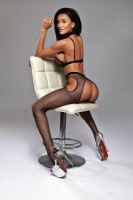 Check out her bum
Elizabeth loves her heels.
Many of you know that I have a thing for heels, I have a thing for brunettes in high heels and I couldn't believe how lucky I was the last time I paid this escort a visit – no not like that! You see Elizabeth and I have known each other for quite some time, it feels like a complete age and when this escort agency was being set up, she was one of the very first ladies to intrust us with her work!
But I seem to have come off track – heels!
Elizabeth had just taken delivery of some very new and sexy heels and because she knew I love them thought she would show me them over a cup of tea! Killer high heeled boots, a sexy brunette escort, and a cup of tea – does my life get any better?????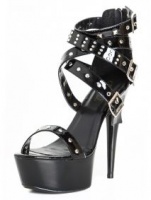 Elizabeth could walk miles in these
Elizabeth can walk in these heels
I didn't believe her, I said that there was no way on Gods earth the Rachael could - although I would like her to try but guess what? Right there and then Elizabeth throws those bad boys on and strutted her stuff – there is even a video on her profile of this ultimate honey walking in them – enjoy! But not too much.
She really loves what she does.
It's true Elizabeth is one of those escorts who lives for what she does, she is a very passionate woman with a certain set of skills, skills which she likes to share and which she knows will make you happy.
Your see on her profile that so many people have left great reviews about her, they're a joy to read and it's great to know that she is comfortable in any setting!
Her figure!
I know! Just you wait and see! If you have never seen Elizabeth in the flesh you have no idea what you are missing, we normally see each other first thing in the morning and are both in gym wear and I promise…….. She looks a lot hotter than me!!!
Tight gym leggings have never looked so good!!!! Elizabeth is even brave enough to wear a crop top to the gym! Abs, arms and bum!!
Naughty girl
And this is what makes her one of my top choices of escort to see in London!
She is so naughty! People just can't leave her, she is one of those ladies that draws you in, gets you to enjoy the party and makes herself your whole world! You are going to forget what's happening in the real world and only be concerned with what's going on where you are.
Is is possible to look any sexier?
Elizabeth likes
Pretty much everything, its great!
Owo, cob, dfk, dt, gfe, massages, rim, fantasy play – wearing those heels, lap dancing – remember chaps she was a dancer, the list just goes on and on.
Happy to see couples and give an entertaining time to both parties Elizabeth is a great girl to accompany you and your partner on a night out perhaps for dinner– I am sure she has a sexy dress in her wardrobe somewhere!!!
Want to play dress up
Then Elizabeth has the selection of outfits to do the job, everything from schoolgirl to secretary – Elizabeth is a true roleplay escort!
You can't stand anymore?
Then call us up and book your time with her, she's going to be so much fun. Elizabeth is available for daytime and evening bookings, weekends, and holidays away – want to walk into a club in Dubai with a sexy brunette with big boobs on your arm? Then off you go, here is your chance and you can do it by simply calling our escort agency.