This weeks showcase is Charlotte
28 July 2021
This week's showcase is all about one of the spiciest blonde escorts that you are going to meet, the ever so divine Charlotte
The past couple of showcases that I have written have been about brunettes – yes, I know that you all know that I have a thing for brunettes, but I also have massive love for our blondes! And when we are taking about blonde escorts then are none hotter than the lovely Charlotte.
The basics of Charlotte.
You can of course pull all of this from her profile but seems as you are here I though a quick insight into this beautiful woman is in hand.
Charlotte is 28 years old, she is blonde with beautiful brown eyes, a slender 34C/24/34 figure and stands at 5ft7 tall.
What her profile will not tell you is the fact that her body is amazing, her arse is so tight and just you wait until you she is sexy escort in a thong! My oh my!
I always say to Charlotte I forget how beautiful you really are…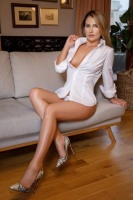 How hot does this amazing lady look?
And that the truth, I have known Charlotte for quite some time now, since the days that she first started escorting and was based in Paddington in a beautiful apartment.
Charlotte has just got better with age; some people are very lucky like that I think that those of you who saw her back then will agree that she looks even better now.
Charlotte is based on the Marylebone and Baker Street boarders
In a beautiful apartment, I may even go as far as saying that she lives in the best apartment I have ever seen.
She creates an atmosphere. She makes the whole place feel sexy, there is no other incall like it. Charlotte uses mood lighting to enhance the feel of your whole experience!
The wall from her bedroom into the bathroom is something special but I will leave that up to you to find out.
Charlotte does outcalls
Across Central London, she will travel to hotels in Heathrow as well.
Charlotte will always arrive to you dressed in a sophisticated professional manner. She will never look out of place and handles herself in an elegant way, she does have a few favourite hotels to visit.
The whole personae of Charlotte screams class and that is what you are going to get.
Charlottes English is perfect
But with a very sexy accent, as with most of our European escorts, also Charlotte has a command of a few more European languages.
Should you be looking for a lady who can hold an intelligent conversation and tease your mind as well as your brain then meeting up with this sexy blonde is well advised.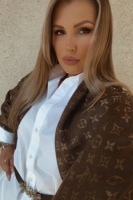 A very friendly lady
Charlotte has a number of friends; entertaining is her life and making people feel at ease puts her on top of the world!
Dinner or drinks with Charlotte is great and we can easily arrange this for you – talk to our bookings team who will glady assist.
Rates
Keeping things as easy as possible is what we do and laid out below is Charlottes rate card;
                                                            Incall               Outcall
1 hour                                                 £200                £250
90 mins                                               £300                £350
2 hours                                                £350                £400
Overnights                                          £1200              £1200
These rates are correct at the time of writing
All outcalls are subject to taxi fare.
Please always have payment ready when you arrive / Charlotte arrives with you, it makes life so much easier and get the "awkward" part out the way right at the start of the meeting.
People love to leave reviews about Charlotte
We cannot stress enough how important reviews are, not just for the girls but also others who wish to book time with them.
Booking an escort is not a "one size fits all solution" and that is why we wish for you all to share your experience.
We have a best reviewed category on our website as well as a blog telling you more about why reviews are so important to our escort girls.
Leaving a review via our website is very simple and can be done in a matter of moments, these can be done completely anonymously – if you wish you can even text them in and the reception team will post for you.