Escort Videos Ranked - The Top 6
22 October 2020
Video profiles have become a huge craze amongst the escort industry over the last year, which is why you will have seen that we have a video escort gallery featured on our website. From adding a gallery which only features ladies with videos on their profiles, we have seen a huge increase in visibility to that ladies profile showing just how much you guys love the softcore porn videos our ladies are creating. 
So, just to make it even easier for you guys to enjoy the best videos our girls have made, we have decided to rank which ladies have the sexiest videos that you need to watch. I've watched all 50 videos our escorts have posted to the site and here is the top 6. Think of it like a Buzzfeed top 6 list, but much sexier - I know I have a hard life.
1. Sunny - A Kinky PVC Display
Sunny for the past few months has been one of the most popular girls for bookings, but I have been asking for her to upload a better video than the previous one uploaded on her profile. 2 weeks ago Sunny sent me this video and I nearly fell over, she really has delivered. She is stood wearing a PVC bra that is so small it is only covering her nipples and a short PVC skirt which you can see up. As the video starts, you can see Sunny running her hand up and down her body before teasing us viewers by putting her finger in her mouth. Hands down this is the best video currently displayed on Dior Escorts.
2. Teagen - A Sexy Topless Display
At the time of writing this blog, Teagan is by far the most popular girl at Dior Escorts. Me and Rachael were shocked to see just how much more popular Teagan is than all of the other ladies, but her selfie images and hot video is a big reason for this. In her video, Teagan starts by sitting on her bed whilst being a latex bodysuit which shows off her petite figure and pert 32B bust. As the video continues, she starts to explore her body and ends by showing off her sexy bum which looks very tight as it looks like she is wearing a latex thong. The video shows off Teagan's stunning appearance but also portrays her kinky side which is driving men wild in the city.
3. Fan - The Peeping Tom Experience
Fan is ranked so high on this list because her professional video is the best on the website. I think you guys will really enjoy the naughty start to the video where you are a peeping tom looking at her undress through the door. The video is naughty and only gets naughtier as she starts to walk around her bathroom in her underwear before climbing into a bath. The two minute film is a must watch.
4. Amalia - A Sexy Shower Routine
Amalia has always been a very naughty escort. If you've seen her profile before you will have seen her sucking on a banana, but in her video she has decided to do something different to the other ladies. She is taking a shower, whilst wearing a black thong showing off her sexy wet figure as she shakes what her moma gave her. She looks gorgeous and now after a hot and steamy session, you might want to join her in the shower to clean off.
5. Aly - A Dressing Gown Tease
Knowing Aly, I know what a tease she is and this video I'd say is just to start to how much of a tease she can be. Stood in front of a mirror, she is wearing an open dressing gown showing off her incredible 34C enhanced bust and hot tattoos. The real tease in is how at some parts of the video, you can see split seconds of a nip slip, just to see exactly what you are missing. Then Aly decides to end the video by pulling her dressing gown completely apart to show off her naked cleavage before quickly covering back up. WOW, what a tease.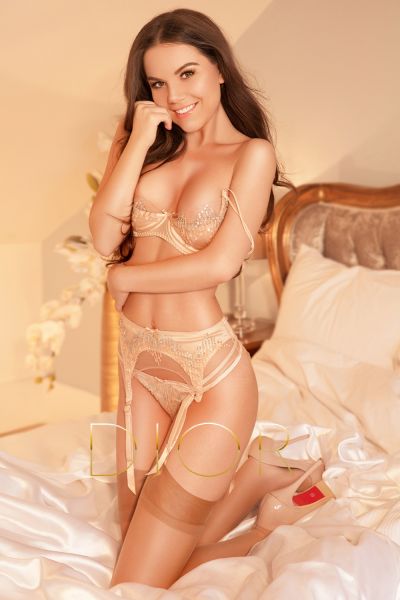 6. Erika - A Professional Striptease
Erika was one of the first girls to add a video to her profile and still to this day, her video is one of the most watched on the website. Unlike some of the other ladies who have made a personal video on Snapchat, Erika has created a professional video where you get to see her fun personality, tight ass and great bust. In the video, you can see how much of a naughty tease she is as she switches from a playful outfit to sexy black lingerie before going topless. The 31 second video has everything.
If you would like a upto date list of the girls who made it into the top 5 escorts at our agency then this is the blog to read