The Different Types of Roleplay
13 May 2022
Whether you are someone who enjoys roleplaying regularly or you are thinking about doing it for the first time, you are not alone. Roleplaying is one of the most popular ways to spice up your sex life and it appeals to all types of people. Regardless of age, gender and sexual preference, there's a lot of fun to be had roleplaying.
Roleplaying for the first time - or trying out a new character or scenario for the first time - can be daunting, but you'll be in the swing of things in no time at all. The sooner you start roleplaying, the sooner you'll see what all the fuss is about. Luckily, there are a lot of different types of roleplaying, meaning there is something for everyone.
The Most Popular Roleplay Dynamics
There are no limits as to how a roleplay can work, and there are endless possibilities in terms of character dynamics. For a lot of people, a roleplay dynamic works best when someone is in a position of power. This is why bosses and employees, plumbers and housewives, and massage therapists work so well. However, there are certainly other roleplays that have a more balanced power dynamic, such as friends turned lovers and stranger sex.
Below, we have taken a look at some of the most popular roleplay dynamics. Which one will you be trying with one of our gorgeous escorts?
●      Boss and Employee - There's a lot of things that make roleplays exciting, much of which is centred around exploring (and breaking!) a specific power dynamic. This is why a boss and employee roleplay is the preferred option for a lot of people, and it's something a lot of couples explore in the bedroom. There's the option to have a naughty secretary who's being told off by her boss, or a stern boss who's putting an employee in their place. Plus, let's not forget how exciting sex on a desk can be.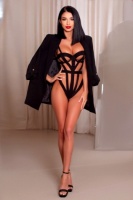 Jessica loves to play the "naughty secretary"
●      Stranger Sex - One of the most common roleplays for an established couple is stranger sex, where both people meet in a bar or a restaurant and pretend that they have never met. This adds an extra level of excitement, and satisfies any craving linked to experiencing someone new. You can enjoy the fun and appeal of having elicit fun with a stranger, without breaking any relationship rules.
●      A First Time Do-Over - For many people, their first time having sex is a distant memory and not a positive one at that. That's why a lot of people want a first time do-over, pretending it's their first time having sex all over again with someone new. There's no embarrassment, pain or sexual frustration. It's all about focusing on the desire and excitement of being with someone who is brand new to intimacy.
●      A Massage Naughty Therapist - A lot of roleplaying starts with a massage, which is why the massage therapist and client roleplay is so common. There's something extremely erotic and sensual about a massage, and it's something that turns a lot of people on. So, it only makes sense to roleplay that it goes further than it should. Before you know it, the massage therapist will be delving further than she should and satisfying her client in a different way.
●      Best Friends Become Lovers - If you have ever felt an attraction to a close friend, you will know that tempting it can be to act on it. Of course, this could send you friendship south very quickly. Instead, many people explore the scenario through roleplay. By involving quick glances and forbidden flirting, you can safely walk the line between best friends and lovers, knowing that it's going to end in passion.
●      Plumber and Housewife - You only have to spend a minute or two browsing popular pornography websites to see just how common this roleplay is. The plumber arrives, a bored housewife takes a fancy to him and things get heated very quickly. There are a handful of other similar roleplay examples - such as a handyman, carpenter, gardener and electrician - that are just as popular and have a similar dynamic.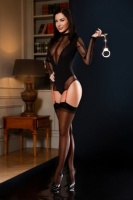 Kylie loves to roleplay as a naughty house wive
From the examples given above, it's clear that there are a tonne of incredible roleplays for you to enjoy. Of course, you can also mix things up and create your own. Perhaps you are interested in a policewoman and criminal relationship, or something naughtier like a teacher and pupil. Whatever you choose, you can always rely on one of our gorgeous Dior Escorts to join you for some fun.
Enjoy Roleplaying at Dior Escorts
To enjoy a roleplaying session, you need to have a gorgeous woman by your side and that's where our beautiful babes come in. You can browse the Dior Escorts gallery and choose your dream girl, knowing that she is going to enjoy roleplaying just as much as you do. A lot of our escorts have uniforms and toys, and they can act like you wouldn't believe. This is why so many people continue to explore fantasies and roleplays with them, knowing that they are in for a treat.
At Dior Escorts, we understand how enjoyable roleplaying can be and that's why we want to ensure that you find your ideal character, dynamic and storyline. All of our escorts are experienced in the bedroom, so they can certainly offer recommendations and guidance should you need it.
It's not always easy to find someone to roleplay with, especially if your fantasy is something slightly unique or somewhat taboo. This is why we always recommend contacting Dior Escorts, as we always have stunning girls who are ready and waiting to try something new. You can book any of our escorts, safe in the knowledge that your roleplaying session will be unforgettable. So, what are you waiting for?