Want to know more about Lea then read on
25 July 2018
Every once and a while we post blogs which not only update you about the girls but tell you a little more about them, we get to know each of the ladies so much more once they are here – remember we are all friends at this agency.
So the choice of girl this week is Lea
Who is Lea?
Lea is a stunning blonde French lady who is based in South Kensington, she stands at 165cms and has an all natural 32/24/34 figure, she is 25 years old and has been in London for a couple of years now.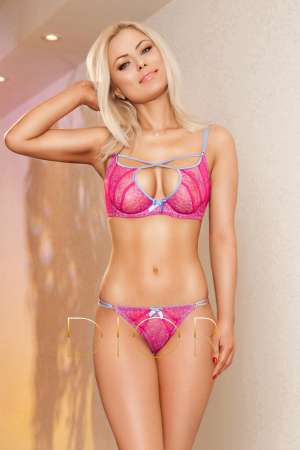 What does Lea do?
As you will see from Leas profile she has a very long list of likes – making her one of the naughtiest choices out of all the ladies here at Dior Escorts. Included in this long list of likes are; party, owo, fk, gfe and my personal favorite she loves to be rimmed – really naughty I know! Those are just the tips of the iceberg for Lea, this wonderful young lady is so open-minded you have really got to just relax and unwind with her and anything is possible.
Where is Lea based?
Lea has a beautiful apartment in the heart of South Kensington, it is very homely and you will relax and unwind as soon as you walk through the door. Lea looks after her home – like she does herself. It is one of the nicest apartments that you are going to visit while seeing any of our London escorts.
A naughty duo with Lea
What a choice this is, Lea is very friendly and open with her great friend Daisy, these two are wicked together and if you are looking for a fun filled time then they are a very safe, not safe, bet for you – we are talking fun like you have never known. A very naughty time with a blonde and a brunette – I could not think of anything better, it is a dream, wet, come true. I am sure that this would be the same for any of you out there!!!
What is Lea really like?
The important question, the question that we get asked a million times a day! Lea doesn't have a selfie on the site, which to be fair I would love her to do, this would show to you, her visitors, just how beautiful she really is and what a knock out the girl can be. When you see Lea dressed up she will knock your socks off! Lea also just happens to be warm, caring and super friendly, she is one of those ladies who relaxes you the moment you are in her company – I think that this boils down to the fact that she is such a genuine person.
Would I say that she is one of the nicest escorts at our agency? Yes, I would.
How to book time with Lea.
That simple and you should all know by now but for the first timers I will break it down for you.
You call the agency on 07504335308 or 0776242643.
Me and Rachael will answer and take all the details of the girl you want to see, time, place etc.
We will then confirm the booking for you by sending you an SMS with all the details.
To arrange a booking takes minutes, it's not complicated and once the booking is over we erase all your details.
Seeing escorts in London is safe, fun and brings pleasure to all parties.