Have the rail strikes effected our escort agency
15 December 2022
Have the rail strikes effected our escort agency?
Of course, they have!
Most of our lovely clients travel into London, we do have a number that live Central, but the vast majority are visitors to our fair City.
This week the national rail strikes run on 4 days , 13 and 14th , 16th and 17th, and Thursday 15 was a very limited and restricted hour service, so London emptied out very quicky.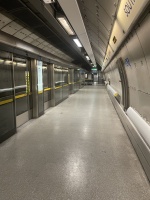 People have been missing from London this week
The amount of money this must be costing the economy is unimageable that that is where the problem to us is!
There is no lying revenue this week will be down, every one of our ladies will be asking what has happened to the work? Where has everyone gone? And time and time again I will be telling them that rail strikes and poor weather – we don't have the World Cup to worry about anymore, are killing us all!
I was in London today and found it to be very busy, the Jubilee Line was packed – Bond Street and Green Park the most popular stops, I wonder why.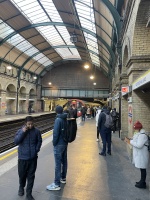 Shoppers were back in London in full force today
Husbands packed with shopping bags wishing they were in the arms of a lady like Zoey instead of running down Oxford Street trying to get the last bits in and getting home!
Tomorrow will be a different thing completely, we are expecting the streets to be empty, a great day for you to shop, wine and dine if you are a resident of Central – well if you are based near any tube line!
Terrible if you are the owner of a restaurant, a bar, a club, an event organiser a very popular London Escort Agency!!!!!!!
Christmas is never a busy time for escorts in London, people are too busy, they are booked up, of course a number of lucky chaps – and ladies, and couples, get to slip out and get themselves a treat for Christmas in way of some owo or even alevel!
The RMT Union has not made it easy for people to do this year, I mean can you imagine if one of the top knobs at the Union wanted to see one of these sexy escort ladies? How would he get there?? So many of you are not going to get in that last "hooray" before the year is out.
There are strikes planned for 24th, 25th, 26th and 27 of December, so those of you that have to completely rely on the rail network, that you paid to bail out, get to loved ones and sexy ladies in thongs and high heels are not going anywhere – such a shame!
A lot of people book in advance when they really really really want to see a certain escort, it's really sad when these plans have to be cancelled, not just for the client but also for the lady, remember everyone that the girls enjoy seeing you as much as you do them!
Oh well, there's nothing that we can do about it, it's up to the men in suits and with enormous pay packets to sort out, we will just wait here for them to do so and when they do our team of professional receptionists will be here to take your call and direct you to where you need to be