Newest escorts at our agency this month
26 March 2023
So many new escorts have arrived in London this month.
Typically, we fill you in with a weekly update, but we have decided to dedicate one post to the new girls.
The main gallery typically displays around 130 escorts for you to meet up with. Currently, this is running at over 150 – a colossal figure; the number of applications we receive every week is just not letting up.
Dior Escorts is known for representing Eastern European ladies. Still, lately, we have had escorts from Russia, Brazil and Italy. It's great for our clients because you now have one of the most extensive online choices.
New Escorts are arriving in London.
Gill Grant – is a very sexy blonde with beautiful boobs, based in South Kensington and available from £600 per hour. A very high-class lady, Gill has posted videos and selfies but is not the most open-minded escort you will see.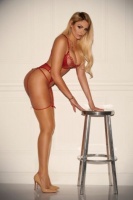 Annushka – one of the hottest brunette Russian escorts you will get to meet, is a beautiful woman with great boobs and a fantastic figure. A real treat because her prices start at £750 per hour, but with a woman as open-minded and playful as she is, the cost is well worth it.
Phoebe: Pretty blonde escort whose prices start at £200 per hour; you will find her currently in Notting Hill Gate, just 5 minutes walk from the tube station and, if you're driving, some on-street parking available.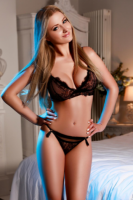 Ladony – such a shame she doesn't want her face shown on the internet because you can't see what you are missing; she is a real gem and could end up one of the best escorts in London! Based over in Bayswater, Ladony is available to 2 guys at once – she is that naughty!
Camille – An eastern European brunette escort, has not posted selfies or videos. No one has left a review on her profile yet, so I guess Rachael will have to fill you in with all the details.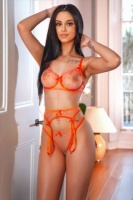 Journee – a sexy ebony escort from Brazil who has G-cup boobs! Journee loves to show off her curvy figure and her professional photos. She has posted many selfies and a video! She is not that open-minded, but she makes out for it with her love of partying and dressing up.
Fabiana – a very sexy high-class brunette based in Kensington, very close to Gloucester Road. 
Storm – lives in Belgravia and is excellent, one of the naughtiest of all the new London escorts to join our agency and is available seven days a week. 69, cim and foot fetish are all covered in her likes as well as many more; she loves to wear heels to show off her sexy feet and to make her legs seem even longer than they are; she doesn't miss your chance to visit this babe.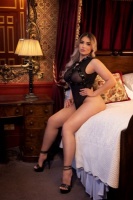 Larisss – strange name but not a strange girl prices for Larisss start at £200 per hour for an incall. You can check out some selfies she has posted and visit her in Marylebone.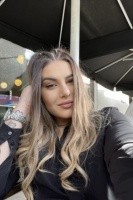 You are making your booking with one of these new escorts in London.
So many people want to see these girls, and we have made it very easy to do; you need to contact our reception team, who will arrange your date for you and have you in the company of one of these ladies in minutes.
How long do the escorts stay in the new gallery?
We generally leave their profiles in the new gallery for a little over a month, which gives our clients lots of time to visit the gallery repeatedly, making new choices, and then the ladies take advantage of it.
How do all these new escorts find you?
Dior Escorts is one of the largest escort agencies in London; established 12 years ago, it has quite the reputation for arranging clients' dates with some of the hottest escorts. People talk, and word of mouth is a great referral tool; established escorts will tell a friend, that friend then tells another friend, and before you know it, there are nearly 200 of the most beautiful women in the world available to you!