The Best Ladies at Dior Escorts
17 December 2021
There are a lot of escorts out there, but not all of them offer the elite and luxurious service that the women here at Dior Escorts do.
We understand the importance of having high class, premium and experienced escorts for our customers to enjoy. This means you can pick any of the girls at this agency, safe in the knowledge that you are in for a treat. Saying that, there are certainly a handful of companions that stand out as being our best girls. These are the women that go above and beyond to ensure you, and your desires, are completely satisfied.
Below, you will find five of our top escorts; Sacha, Glory, Charlotte, Haifa and Lavania. These girls are not the standard escorts you expect to find in London, these are our most popular girls who offer a full range of incredible escort services.
Our 5 Top Escorts For You To Enjoy
If you have spent any time browsing our elite incall gallery, you will know that there are a whole host of beautiful women to choose from. Regardless of your 'type' and preference, you will find a gorgeous escort who will cater to your every need. However, this can make it difficult to narrow down your options and pick the perfect escort for you. To help you out, we have chosen five of the best girls at Dior Escorts. These women stand out as being something truly special in the world of escorting. So, which one will you be booking?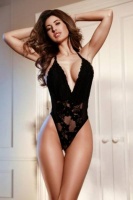 Sacha
Don't be taken in by Sacha's friendly presence and smile, as this is a woman who is ready for anything. Her vast collection of lingerie means she will always greet you wearing a sexy, seductive and sultry outfit. Sacha's incredible 36D breasts are sure to be where your eyes are drawn to, but don't ignore her stunning face and incredible body. She really does tick every box when it comes to what you expect from a gorgeous woman.
Sacha doesn't hold back when it comes to services, and she is happy to cater to your needs. She goes above and beyond to ensure your fetishes, fantasies and cravings are explored. You can choose from a girlfriend experience, a passionate evening of lovemaking or a sexy session of flirting, fun and so much more. Whatever you are in the mood for, Sacha is an unbeatable lady to spend time with. You can visit her at her apartment or hang out at a local hotel, both are equally fun when Sacha is involved.
Glory
One look at Glory and you can see why she is one of our best escorts, she is truly a stunning woman with so much to offer. Her dark hair, dark eyes and gorgeous body are enough to entice any red-blooded male. She has curves in all of the right places, and you will want your hands on her in seconds, before being desperate for much more. Plus, Glory is always ready for anything. She is happy to enjoy a one-on-one session of passion, or she's happy to get down with a couple. She is happy to explore a role play scenario with you or get stuck into spanking and fetishes. When we say that Glory is a woman who likes all types of noughties, we really do mean it.
Glory has an impressive selection of sex toys and uniforms, which is great news if you are keen to try something new. Perhaps you want to spend an evening with a naughty nurse or be put in your place by a sexy secretary, Glory can do it all. She'll even give you a lap dance or let you rim her if you ask nicely. Glory is a great companion to let loose with.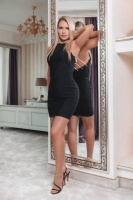 Charlotte
There are a lot of escorts at this agency who are popular, but Charlotte really does continue to impress our customers. She is a beautiful and busty blonde, with deep brown eyes and a body to die for. Try and keep your hands away from her, you won't be able to. From the moment Charlotte greets you in one of her many sexy lingerie sets, your focus won't be anywhere else. Her 34C breasts, pert bottom and curvy figure is enough to keep anyone busy. She is playful and flirty, yet sultry and seductive. She is friendly and charming, yet passionate when she needs to be. Whatever it is you want from Charlotte, she can give it to you. In fact, she enjoys passion just as much as you and will be screaming your name. What could be sexier?
There are two sides to Charlotte, a gorgeous escort who is keen to pleasure you and a strict dominatrix who is keen to punish you. Whichever you choose, Charlotte has everything to give. She has whips, strapons, leather, handcuffs and a whole host of other sex toys. She also has a collection of sexy uniforms, including a secretary and a schoolgirl. The moment you are feeling the urge to enjoy sex with a beautiful escort, book Charlotte and be satisfied more than you ever thought possible. Nothing is out of bounds with Charlotte, so feel free to let loose and don't hold back.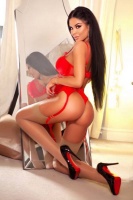 Haifa
Haifa's brown eyes and black hair make her stand out as a sultry seductress, a woman who will grab your attention and entice you in. Whether you are drawn to Haifa by her incredible body or her beautiful face, you will immediately see what all the fuss is about. You can enjoy seeing her 34D breasts in a range of sexy uniforms and outfits, or you can marvel at her in luxurious lingerie. Whether you choose a girlfriend experience or domination, an erotic massage or role play, Haifa is sure to blow your mind.
Haifa is unlike any other escort, which is why she is the 'go to' choice for many of our returning customers. Her long hair flows down her back, giving a truly feminine and goddess-like sight. Haifa is the perfect combination of being curvy and toned, thanks to her long legs and sizable breasts. One of the great things about Haifa is that she loves being an escort, just as much as you enjoy spending time with an escort. This means she will be throwing her hair back in pleasure and ecstasy, as she gets off from satisfying you.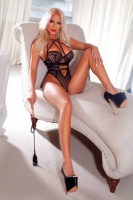 Lavina
If it's a blonde haired and blue-eyed beauty that you are looking for, Lavina really could be the women for you. Not only is she beautiful, but she is extremely busty and has perfect curves to show off. Lavina has been working as a companion for a number of years, so she is extremely experienced. This means she has the skills to satisfy your every need and grant your sexual wishes, regardless of what they are. Lavina has a lot of uniforms and sex toys for you to play with, including a premium strap on and multiple vibrators.
There is nothing that Lavina does not enjoy, so she's a great choice if you want to mix things up and try something new. She enjoys face sitting, rimming, stripping, lap dancing, massages and parties. This means you can take Lavina for a night on the town or invite her to a private party for two, knowing she will be having just as much fun as you. Let's face it, there is nothing better than having a night filled with desire with a gorgeous woman knowing they are enjoying it just as much as you are. One night with Lavina and you will be wanting to go back for more, and more, and more.
So, will you be choosing Sacha or Glory? Who grabs your attention, Charlotte, or Haifa? Is Lavina the escort for you? You won't be disappointed in whoever you choose, as these are our top five babes for a reason. Of course, you can choose any of our escorts knowing that an unbeatable sexual experience is guaranteed. After all, we only work with the best of the best. All you need to do is browse our various services galleries and find a lady who offers exactly what you are looking for.
Find Your Perfect Lady at This Escort Agency
At Dior Escorts, you will always be able to find your perfect escort. Whether you are looking for a blonde haired and blued eyed beauty, or a sexy and sultry busty brunette, you won't find yourself short of choice. After spending a minute or two browsing our profiles, you will see that we have something for everyone. The sooner you book some time with one of these ladies, the sooner you will be treated to an unforgettable experience.