The most viewed escort profiles on our website during 2022
01 January 2023
The new year is under way but last year is not forgotten.
This post is the most viewed girls' profiles for the whole of 2022, I don't believe that any of the girls listed would be a surprise to you, they're all very amazing and very sexy and all of them have a selfie on their profiles.
Does this confirm to you that London escorts these days need a selfie on their profile – I guess it really is that important! When the ladies take selfies, they should really put a lot of effort into it!
The following ladies are the best, we hope that you got a chance to see them all, if not then each of them is still going to be in London for 2023!
Glory – reading this babes reviews always puts a smile on my face, people write such nice things about her, they have so much fun, you really are that lucky! Glory sees couples, single men and single women she is s naughty! Plus Glory posts very sexy and tantalising videos.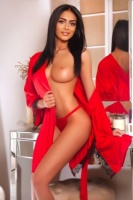 Glory is a sexy brunette
Haifa – a busty brunette with a very sexy arse, you just want her to bend over in front of you in a black pencil skirt and black stilettos – just me? Oh well! Haifa is one of the most booked escorts in Bayswater, she is loved as much for her personality as well as her looks.
Devon – beautiful flat, beautiful lady, naughty fun, has posted videos and selfies on her profiles, has a very naughty Mistress profile, and has people return to her time and time again! All go together to make Devon one of the most perfect escorts there is!
Teagan – the 1st girl in London to post the most truly amazing selfies, the 1st girl who took the time to really put effort into it and she blossomed! Teagan has had a few negative reviews lately and not the biggest likes list, but she is still very popular amongst her regulars.
Flower – brand new to London and soooooooo sexy! Flower lives in a beautiful apartment, has a very sexy figure and looks better than her photos! Her profile only went live a few months ago but she is in the top 5 with girls who have been on the agency website for a long time.
Ellie – there is so much to say about Ellie, but we don't need to. People love the "sexy little one" she turns them on like they have never known! Ellie is available for a duo with Aletta and has a very open mind!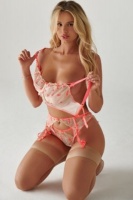 Ellie looks sexy as a blonde
Elizabeth – My favourite of all our ladies, listed in the mature gallery, listed in the dominatrix gallery, and one of the most reviewed babes on the site! Elizabeth isn't expensive for the calibre of babe that she is, she knows all the best places to party, she loves to dress up and we love her in a sexy pair of strappy shoes.
Naomi – a brunette with striking blue eyes and a great figure, the 8th most viewed profile on the site doesn't say enough about this babe. Naomi has posted videos and selfies and has the most amazing professional photos, her owo is world renowned!
Beauty – big boobs and a great arse! WOW! We love Beauty here and so do our clients. She is friendly, warm and fun, a playful girl who needs no introduction, 9th overall for the year? I think that you are missing out and that Beauty is one to have on your list.
Eva – perhaps one of the most underrated escorts at our agency, so much fun and such a great lady. Would her profile get more traffic if she had new professional pictures and new selfies? I think she would! Eva only offers incalls and her rates start at just £150 making her one of the cheaper escorts!
Each one of these girls put effort into their profiles, which people see, and people then visit their page.
What you put in is what you get out!