This weeks showcase girl is Sunny
08 October 2021
If it's a sexy brunette escort you are looking for, you will love our escort Sunny. Based in Paddington, Sunny is a natural when it comes to pleasing clients and providing a luxury, high class and unbeatable escort service. There are not many girls like Sunny, which is why her profile is overflowing with amazing reviews and she's always booking repeat customers. One evening with Sunny and you are unlikely to stray to another escort. She loves what she does and it shows, she is loving every minute that she is working as an escort. She will enjoy herself just as much as you do, so it's a truly mutual and personal experience. So, what are you waiting for? Read on to find out why Sunny is so popular and why you should book her today.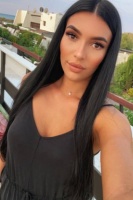 Sunny always looks so good
Get to Know Popular London Escort Sunny
From the moment you meet Sunny, you will feel as though you have known her for years. She is friendly, charming and charismatic. She will relax you, calm you and treat you to a one of a kind intimate evening. Sunny loves uniforms and dressing up, meaning she can be anything you want her to be, and she works hard to ensure you are truly satisfied. Being with Sunny doesn't feel like being with an escort, it feels as though you are experiencing a sexual and sensual connection.
Sunny lives in Paddington, in Central London, in one of the top apartments in the area. Out of all our escorts, Sunny's apartment is one of my favourites. As well as boasting a central location, it has incredible views and a lot of space. This means there is tonnes of room for fun and flirting, and everything else you and sexy Sunny plan to do. When you are unwinding, gaze out and enjoy the sights.
Why is Sunny So Popular?
You only need to take a quick look at Sunny's photos and selfies to see why she is one of our most popular escorts. She is young, flirty and willing to try anything once. Standing at 166cm tall and with 34B breasts, Sunny ticks a lot of boxes for a lot of people. Team these attributes with her dark brown hair and deep brown eyes, and you will see why all of our clients rave about her. The moment Sunny walks into a room, all eyes are on her and I'm never surprised. She really is a beautiful woman, but she definitely has a naughty side, which you will see from reading her reviews.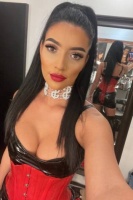 Fancy some time with this sexy babe 
If you are looking for something a little naughtier, a little more daring, you will be begging for time with Mistress Sunny. Restraints, toys, whips, canes and clamps are just some of the equipment Mistress Sunny has waiting for you. Once she has opened the door wearing an incredible latex outfit, Mistress Sunny will push the limits whilst keeping you in safe hands. She is sexy, dominant and powerful. She is everyone's 'go to' mistress and always has people crawling back for me.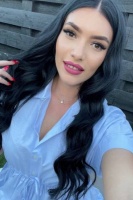 Sunny is always on point
A Paddington, London Based Escort
Sunny is based in Paddington, but she is more than happy to travel throughout Central London for bookings. This means she is never too far away, regardless of whether you are visiting the city for a long weekend or you live here permanently. Paddington is the closest London Underground station to Sunny's apartment and it's only a short walk away, but Bayswater and Lancaster Gate are also close by. Though there is no parking, the area is on a number of bus routes and getting a taxi is always an option. Simply, you won't struggle to travel to see Sunny in her beautiful apartment.
One of the best things about Sunny is her ability to keep things discreet. Sunny, or Mistress Sunny as you may prefer to call her, understands the importance of keeping things on the downlow and your secrets are safe with her.
Sunny's Favourite Places in London
When you are as popular as Sunny, you will experience some of the best restaurants and hotels that London has to offer. Though she is based in Paddington, Sunny works as an escort throughout the city and enjoys travelling to new places. The Hilton London Paddington, Nox Hotel Paddington and The Chilworth London Paddington are some of her favourite hotels. Booking a room at any of these hotels will delight Sunny, even more so if you go one step further and really treat her. Of course, if you would rather pay Sunny a visit at her apartment, you can do so and I know she will make an effort to be the perfect host.
If you are someone who likes to take an escort for a night on the town - whether that be on a romantic date, to a business event or on a lively night out - Sunny is the girl for you. She's fun and she knows how to have a good time. Like many of our London escorts, Sunny enjoys sampling the fantastic restaurants the city has to offer. Bob Bob Ricard, Clos Maggiore and Berners Tavern are some of her favourites but she is always keen to try somewhere new. As long as there is good company, Sunny is guaranteed to have a great time.
Book Sunny Today
If you are interested in booking Sunny - or Mistress Sunny, if you like your escorts a little more dominant - you can do so today at Dior Escorts. When an escort like Sunny has so much to offer, why would you wait? Sunny is one of our highest reviewed escorts, meaning she books up quickly and is in high demand. So, if you are lucky enough to see her with availability, don't hang around or you might miss out. The sooner you book Sunny, the sooner you will see why she is one of our most popular escorts in Paddington. You can book Sunny directly with me or you can get in touch via the Dior Escorts website, both ways are quick and discreet.