April is nearly done and so a catch up is due
27 April 2023
I apologise for not keeping these updates weekly; I know that so many of you, clients and ladies, love to read these, and the feedback is excellent.
Here I will update you with the latest new escorts to arrive in London, give you a little insight into our most recent blogs and share some exciting facts about the agency with you.
First, a Very Big Thank You.
Much time goes into writing our blogs, news articles, and escorts profiles, and the feedback we get is truly unique; what's even better is when another escort agency decides to copy and repost a blog of yours, the blog in question is "A Guide To Booking A London Escorts", now I won't tell you which agency it is but thank you!
Now On To The Important Stuff.
Medusa – sexy stunning Russian babe, slim and very naughty – it's so much easier to write a profile for an open-minded lady, and it's much more fun to read! Medusa has posted videos and selfies, two of the essential elements of an escort profile besides reviews.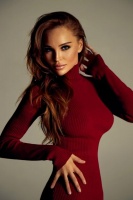 Medusa a very sexy Russian brunette.
You will find her based in High Street Kensington for incalls; Medusa will also visit you in Central London.
She doesn't have any reviews yet, so please, gents. Once your time is over, take a couple of minutes to write one and help this very sexy Russian out.
Effie – a beautiful blonde mature lady located on the South Kensington and Chelsea borders – in a fantastic apartment. Effie has an incredible figure and a varied set of likes, including meeting with couples and some sexy videos and selfies. Rates for this babe's company start from £300 per hour, and she is well worth it.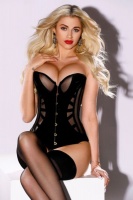 Effie has the most amazing "blowjob lips" ever.
I cannot stress enough how essential selfies and videos are; all the ladies reading this, please take note, and read our guide to taking a video and selfie! Rachael and the reception team continuously ask for new and better-quality ones via their WhatsApp status updates.
Tiffany – we all love a curvy, busty babe, and Tiffany is just that, based in Marylebone and available for calls and outcalls 24 hours a day. You can book with Tiffany for a duo with Hailey and Tiffany – two of the most viewed escorts at this agency.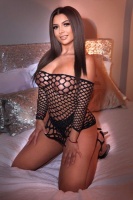 Natrual, busty with curves in all the right places.
Tiffany's incall rates start at £150 for 30 minutes.
Amarah - £200 per hour, sexy, brunette, C cup fake boobs, and a massive list of likes all go together to make Amarah one of our agency's most booked new escorts. If you are in the Sloane Avenue area, you must visit this babe!
Valeria – located in Marylebone in a beautiful apartment, a hot blonde with many very sexy tattoos; honestly, I love a lady with some sexy body art. Valeria has natural 34DD boobs, which she loves to show off in tight-fitting tops; she is not the most open-minded of the new class, but she is still an excellent bet if you're looking for an escort with a specific "look".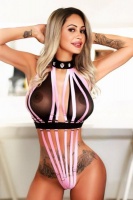 Valeria has such a great figure.
Leigh – a little less "planer" than some of the new girls and with a list of likes that are a lot more "vanilla". No selfies and no video, our newest Brazilian has a long way to go if she wants to make a name for herself on the London escorting scene; with such a wide choice, you do need to stand out.
Courtney - £600 an hour, hardly any likes but model looks, one of the best looking "model" Brazilians we have seen in a long time. A blonde with natural boobs and a real elegant air about her.
Can't wait to see the first reviews drop in for this babe.
Riley – naughty-looking brunette escort Riley is sport on, takes note ladies – selfies, very sexy professional photos, and she's already hit the ground running with some reviews. The perfect example of how to make a name for yourself here in the world's most fantastic city!
What Else Has Been Happing At Dior Escorts
We have posted a couple of very informative blogs (no one is yet to copy these, but they have only been up for a few days), an in-depth look into the history of escorting in London and one about the impact of the internet on our great industry, mine and the SEO team's personal favourites, and boy, have we written some blogs.
We have some exciting updates coming to both the girls' profiles – a very sexy new layout and the home page – just some little touches to make your lives easier when navigating the site looking for your perfect lady.
I hope you have enjoyed this update; our reception team are available seven days a week to take your call and arrange your time with these remarkable ladies or any of your "old favourites."