February comes to an end and our website is up to date
28 February 2023
The nights have started to get lighter; we still have a chill in the air, but we can just smell the spring, it's just around the corner and boy I can't wait!
This week's post is another important one, it's the February payday weekend news article, giving the latest ideas for which one of our lovely London escorts to book time with.
Read on, visit the girls' profiles and then call our reception team and get them to arrange your booking.
Reviews posted this week on our lovely escorts.
The reviews have been flooding in, both via the website and text in by our clients to be posted on their behalf! There have been so many positive ones and only one not so good one – more a misunderstanding of what was expected of each other.
The below is just a selection of the call girls who have had reviews text in, these are of course live on the ladies' profiles, just click and check them out
Amy, Lavina, Luna, Shanel, India, Elizabeth, Nyla, Devon, Jodie, Sierra, Raya, Taboo
Raya and Taboo - 2 amazing escorts
Comings and goings
Every week we have a number of escorts returning to London and leaving London for their holidays, returning home or giving up escorting to pursue another career.
Viktoria, Ellie, Flower, Fedrica, Switte, Tee ( returned from a very long break with new rates and a lovely big smile), Annie, Pamela, Sunny, Miaranda, Sacha, Nikyta
Off on holidays this week are;
Erika, Dakota, Navilla, Dandelia, Genie, Sammy, Edwina, Dara, Andra, Jodie, Faith, Lindsey
And then there are massive number of updates
Girls who are on the move
2 of the best looking blondes have been on the move
Blossom has moved to a beautiful apartment in a lovely location just off High Street Kensington.
Marlene has gone back to her roots and is once again located in Mayfair.
Julie has packed her bags in Paddington and has moved into a sexy house just around the corner from Baker Street tube station.
Rates have changed and so have some of the girls.
Pupi took a break from doing outcalls at the end of last year, she has now made the decision to completely remove these from her profile as, for the foreseeable, she won't be returning to them.
Teagan has posted an extremely sexy video of her in some great lingerie, for a lady so small I have to say that Teagan has one of the best bums that I have ever seen, check out the video on her profile.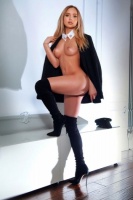 Teagan is known for putting lots of effort into keeping her profile up to date
Heidy, Medeea and Marta have all decided to lower their rates to make them available to a wider audience.
Did someone say, "New London Escorts"?
As always, we have a nice selection of new ladies for you to pick from this week, 3 very beautiful and open-minded escorts have arrived in London and are available for you to visit.
Juniper – a very attractive brunette escort from Brazil who has posted a number of selfies and a very sexy video, she is based in Knightsbridge and available from £500 per hour.
Paloma – a dark skinned Brazilian with a great figure, listed in our mature gallery perhaps she will make the new top 5 list? Located close to Bond Street and Oxford Street Paloma is friendly, warm and very naughty.
Mona – a very sexy blonde babe who offers incalls in the Marylebone area of Central London, available from 30-minute bookings to weekends away.
A special mention to one very special escort
One of our longest standing escort ladies, Mexico, has decided not to return to London after her end of year break, it's so sad to see her go and I know that so many of you will feel the same. A beautiful person with amazing reviews and who really left an impact on the team here at Dior Escorts.
We do like to keep you up to date with some interesting reads.
We get some many comments on the blogs that we post, remember these are all written in house by people who know the world of escorts and deal with them on daily basis, if you would like a brand new read for a Sunday evening and want to find out what turns the escorts on then we have the article just for you.
https://www.diorescorts.com/blog/sexual-fantasies-that-escorts-find-the-biggest-turn-on
I hope that you've enjoyed this post and that it's a simple way to keep you updated with the goings on at our escort agency.